Porto Alegre: Grand weekend at Gigante do Beira-Rio
source: StadiumDB.com; author: michał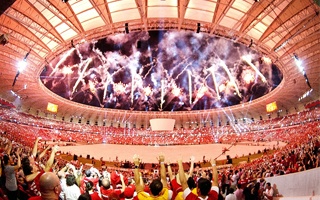 Roughly 100,000 people took part in spectacular reopening of Estadio Beira-Rio in Porto Alegre. Redeveloped giant celebrated its 45th birthday, while Internacional enjoyed 105 years in operation.
First test-game at the newly-redeveloped Estadio Beira-Rio may have been held in mid-February, but the proper re-inauguration was planned for last weekend since last year.
Long-awaited "Festa Gigante" was a tripple celebration. First occasion was of course the rebirth of Beira-Rio, a stadium now ready for further decades in operation. But the weekend saw two symbolic dates as well. On Friday Internacional celebrated their 105th anniversary, while April 6 was the 45th anniversary of first ever game at Beira-Rio.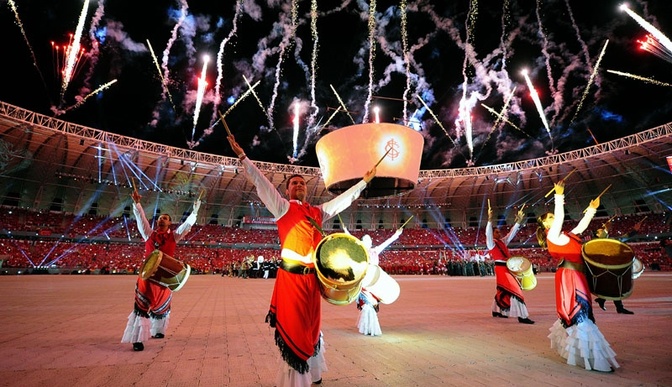 Photo: SC Internacional
Making use of the unique opportunity, Inter prepared a massive celebration that involved over 1,000 performers on the pitch. Dancers, musicians (with Fatboy Slim most well-known), choir and symphonic orchestra provided background for scenes from Internacional's history. Below you may see a video catching most interesting moments of Saturday night.
While fans were leaving the packed 50,000-seater after impressive fireworks display, preparations began for the second day of festivities. Protective mats were removed from the pitch, which was of decent quality on Sunday despite exhausting use the night before. Temporary panoramic screen hanged centrally over the stadium was also removed.
On Sunday, just like 45 years before, a great deal of football was provided. Inter faced another famous South American powerhouse, Penarol. Host side won 2:1, giving the packed stadium a reason to celebrate again. Worth noting, two massive flags of Brazil and Rio Grande do Sul state were mounted over the stadium, using large cranes.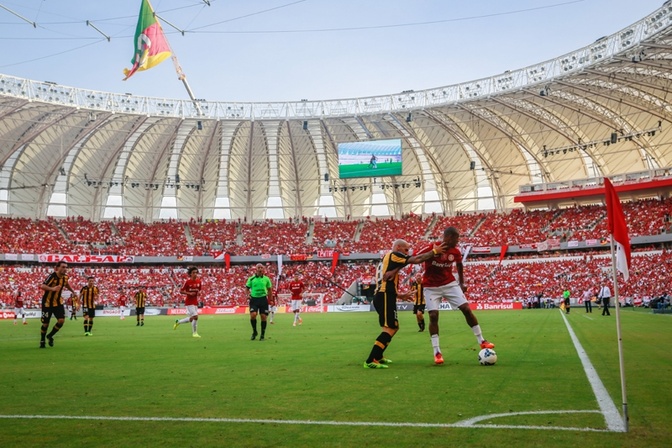 Photo: SC Internacional