Northampton: Sixfields revamp with capacity cut
source: BBC.co.uk; author: michał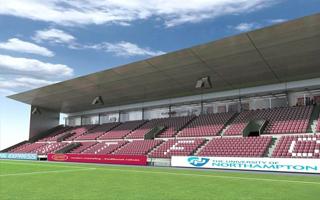 Initial plan to increase capacity from 7,653 seats to 10,000 was scaled down to a less impressive size of 8,500. More corporate boxes forced the cut, according to the BBC.
Work has started on Northampton Town's Sixfields stadium, which is part-funded with a £12m loan from the council. However, initial plans regarding capacity were altered. The increase in seats will be significantly smaller than hoped.
The cut comes in Northampton Town's attempt to accommodate more corporate seats in the future layout. Four, maybe five new skyboxes are planned along a new directors' area. Final capacity should be around 8,500 instead of initial 10,000.
The move sounds reasonably if taken into account that Northampton club has an average attendance at games of 4,000 people.