North Korea: Mysterious renovation of Rungrado begins
source: NKNews.org; author: michał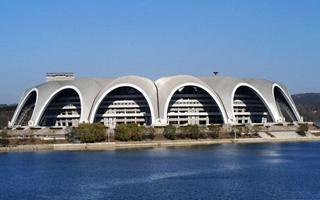 A temporary container cty was established around Rungrado May Day Stadium, one of the world's largest sports arenas. It's understood to be the beginning of awaited refurbishment at the stadium.
Containers or, as NK News describes it, "primitive barracks" were raised around North Korea's national stadium. The agency claims up to 10,000 soldiers may be stationed there and ordered to work on the renovation of Rungrado May Day Stadium.
The giant, which initially was built with a capacity of 150,000 people, has undergone only two significant changes in its history. These include seat installation and reconfiguration of the east side of the field to better fit its role as a "living screen" during Arirang Mass Games.
This year's Arirang was cancelled after last year president Kim Jong-un was unhappy with the stadium's state. Though the extent of renovation works remains unclear, it is understood that seats and field surface are to be replaced among other operations.