New stadiums: Zibo, Ordos, Nantong
source: StadiumDB.com; author: michał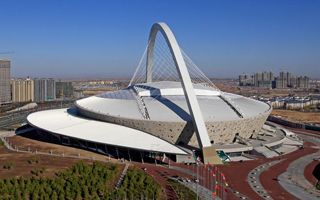 None of these names rings a bell? No wonder, they're fairly unknown outside China. It's time to change it, because today we add the country's two only stadiums with retractable roofs. And one more "regular" sporting giant.
The stadium built on a 79,000 sqm blueprint in 2008 is the main venue of Zibo's new sports complex, west of the city centre. Surrounded by artificial ponds, this stadium is the city's largest, one of the best throughout the Shandong province.
In 2009 it staged part of the football tournament during National Games of China, while in 2010 it became main venue for the Shandong games. Other arenas in the complex include large indoor hall and natatorium, along with several smaller buildings.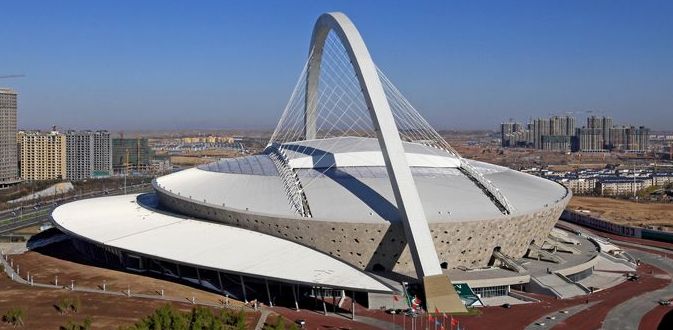 The new sports-leisure complex in Dongsheng (just north of Ordos) was built in 2011, occupying the space of over 49 hectares. The first element delivered was its largest venue, the football-athletic stadium, opened in June 2011. It's China's second stadium with a retractable roof, but first ever able to host large events even in winter, thanks to its outer shell being solid.
Instead of common perforated, openwork wraps, the stadium has been covered in sculpted concrete panels. From a distance they seem almost uniform, but up close one can see varying textures and slots. Kept in natural, earthy colours, the stadium is expected to refer to the ceramics of Inner Mongolia.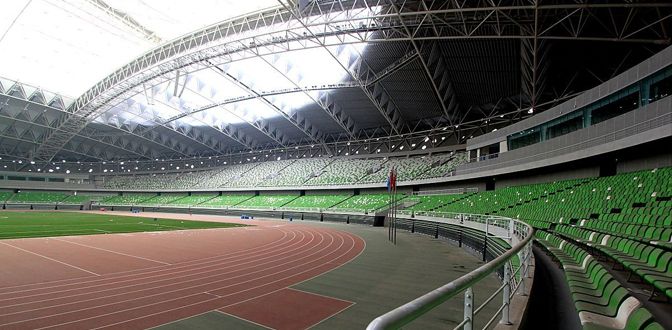 Most iconic feature is the arch spanning over the entire stadium. It reaches 128.5 meters at peak and spans over 330m. 25 pairs of white steel cables support the roof frame. Between the cables two retractable panels operate, able to open or close 10,000sqm in 18 minutes.
Inside double-tiered stands offer over 35,000 permanent seats and up to 12,000 temporary ones. Additional capacity can be created with seven telescopic rows sliding over the running track, forming a more football-friendly layout.
With Inner Mongolia's harsh climate and enclosed form of the stadium, it's equipped with a fully synthetic field, meeting all FIFA requirements. Though not the first of its kind across China, this is the first football field of this class created solely with Chinese technologies.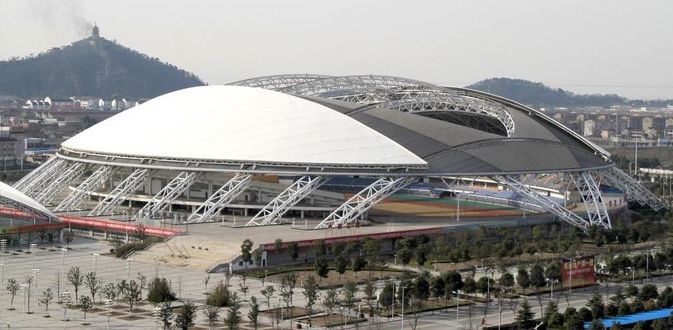 First ever retractable stadium roof in China was created in 2006, along with the new stadium in central Nantong, created for provincial multi-sport games. With the investment of over CNY 1.1 billion a huge sports complex was built, but despite numerous other buildings and functions within the project, it's the CNY 410 million stadium that stands out most.
It's because of the roof structure, which is the first ever retractable cover to use hydraulic system in operation. While it's somewhat slower than in some other stadiums (takes 20 minutes to open/close), it's also very cost-efficient. A single closing/opening of the dome generates a cost of roughly CNY 800 despite the vast surface of 17,000 sqm of the mobile segments.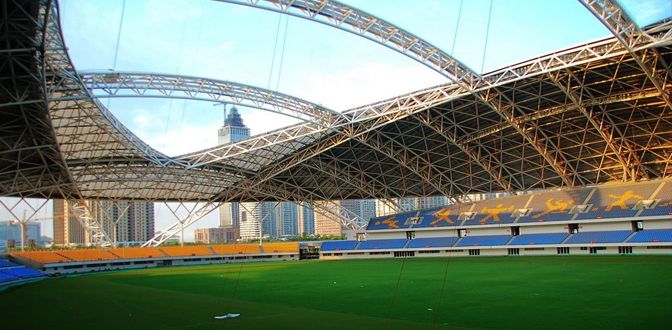 The roof spreads over a spider-alike domed frame, altogether weighing almost 10,000 tons. Each of the two mobile halves weighs 1,100 ton. Worth noting, the stadium isn't fully enclosed. In fact, all of the stands are open-air even with the roof closed. On one hand this allows for decent ventilation even in moderate weather, but on the other – the stadium isn't completely weather-proof.
There are 22,000 fixed seats around the pitch and track, but temporary expansion is possible up to, perhaps slightly over 30,000.