New stadiums: Tanger, Meknes, Safi and Al Hoceima
source: StadiumDB.com; author: michał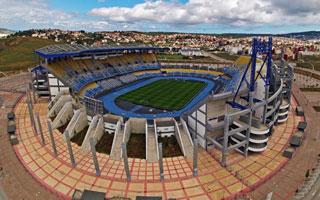 One of these stadiums will host the 2015 Cup of Nations. Remaining grounds regularly host really hot games. And we don't mean the temperature alone, it's also about the atmosphere of Moroccan stadia.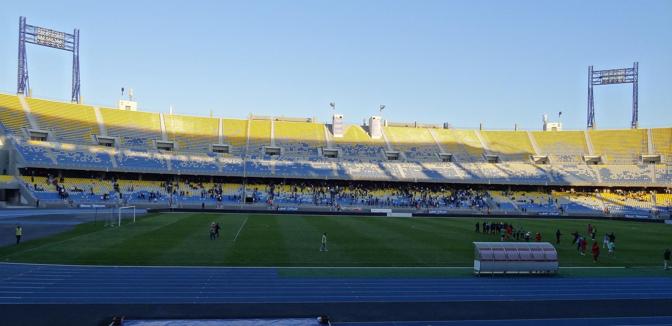 Photo: Groundhopping Merseburg
The newly built stadium in south-western outskirts of Tangier (by the N1 national road) isn't only the city's largest sports facility, but the largest building overall.
Construction was marred with delays and lasted almost 9 years in the end. Began in 2002, it wasn't delivered until 2011. And it may still seem look unfinished to some, not without purpose. Both end zones were left single-tiered, but with the footing for an upper tier to be added in the future. Similarly, the east stand already has support structures for its future roof, should funds be allocated to build one.
While a lot may still be done, the initial budget of 844 million dirhams seems a very modest one by global standards for a 45,000-seat stadium. Unfortunately price seems to match quality in some areas. Open ends create strong drafts, western roof covers barely anyone in the lower tier, while the playing field is very far from fans.
Further criticism was caused by insufficient access in early years of the stadium. Largest events cause severe congestion both in terms of traffic and turnstile crowds. The latter was reported to lead to potentially dangerous situations.
Despite all concerns the stadium will remain Tangier's major sports venue. It was opened by a friendly tournament by Atletico Madrid, Raja Casablanca and Ittihad, while in 2015 the Cup of Nations is to be played here. Everyday use is provided by Ittihad, who struggle to fill the ground half-way. Largest crowds gather in the southern curve, where fanatic supporters cheer for their team.
Photo: Groundhopping Merseburg
The most important stadium of Meknes was built in eastern part of the city and is used permanently by largest local club, CODM. Its lower tier encircles the pitch in a football layout, providing 9 rows throughout. Only the western main grandstand is significantly larger, also partly covered.
Built in 1962, the ground went through several improvements, most recently receiving a synthetic turf in 2007.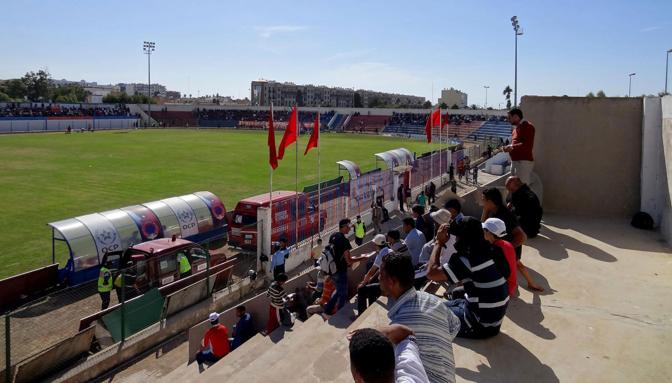 Photo: Groundhopping Merseburg
Safi's largest stadium lies near the center. It was opened in early 1940s and to date had only minor upgrades, like floodlights or the latest addition – synthetic turf in 2011.
The single-tiered stands offer moderate viewing comfort with low height of the stadium, high fences and athletic layout. Still, it's often packed to capacity by fans of Olympique, who argue they need a bigger ground. Local ultras occupy the south-eastern curve, while away section is located in the south-west side.
The stadium's name means Green March Stadium and was adapted in 1970s, after the 1975 Green March. Moroccan citizens crossed the border with West Sahara in a peaceful march then.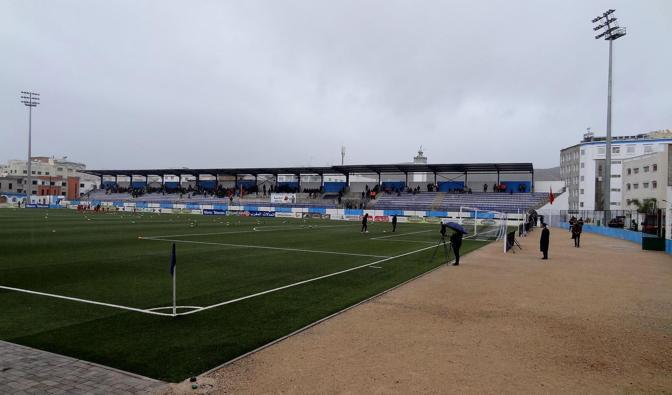 Photo: Groundhopping Merseburg
The stadium was erected in early 1950s. Soon afterwards it was occupied by Chabab, the team using it to this date. Central location in Al Hoceima meant good access, but also constraints in terms of future expansions. To date the stadium has only two stands, south and north of the pitch.
The southern main grandstand has an indoor hall integrated to it and offers a very modest amount of cover to spectators. The north side is fully covered after the 2010 renovation. During that upgrade the stadium received its synthetic turf. In total the project cost 50 million dirhams, but possible improvements are still expected. One of them is a 48-bed hotel for the sporting personnel.
Because the stadium was built under Spanish protectorate, it also has a second name, used more commonly – Estadio Chipula.