New design: Liverpool unveils Anfield with new main stand
source: StadiumDB.com; author: michał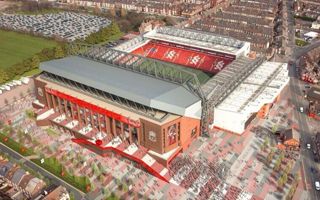 Long expected, here are first renderings of how the partly expanded Anfield will look like. Phase one will bring the stadium to 54,000, but needs to be consulted upon first.
Discussions, speculations and rumours over how the revamped Anfield could look began already in October 2012, when Liverpool FC announced they're scrapping new stadium plans in Stanley Park. It was decided that roughly 60,000 seats may be reached with expansion of only two stands, for half the new stadium's cost.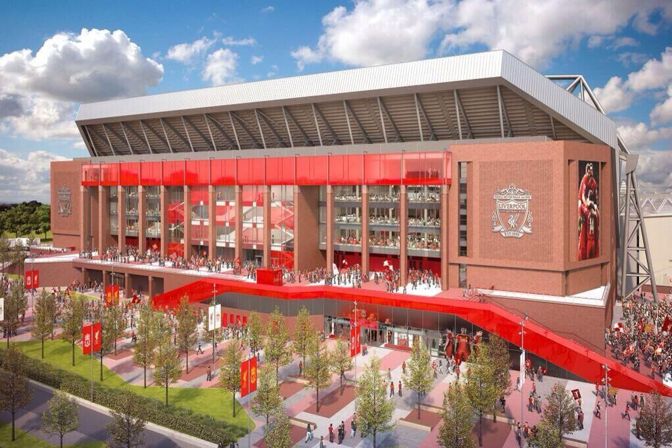 The complete budget of expansion works is now set at GBP 150 million (€180m / $250m) and Liverpool has just today presented the first phase – new main stand. Instead of one tier with quite a few obstructed views, the new structure will offer three tiers (one understood to be solely for corporate clients).
In terms of size and capacity the latest plan will absolutely dwarf remaining sides of Anfield. The stand will grow to a massive number of nearly 21,000 seats, making the current Kop end seem small with its 'only' 12,000 single tier. The below rendering of Anfield's interior shows new proportions quite plainly. As phase one is implemented, Anfield's capacity should reach 54,000 seats.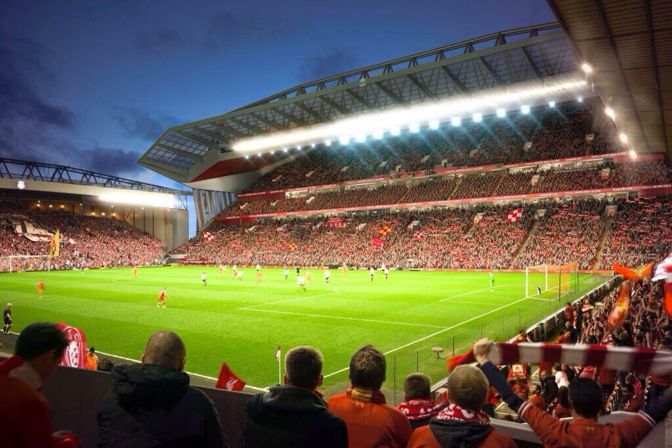 From the outside the new stand is rather simply, but elegant. Brick façade, monumental colonnade revealing five upper floors and finally – red glass and white-red pavement as impressive details adding to the scheme.
Overall the new stand will consist of seven floors for club use. Ground level will see a new megastore, while offices, banqueting/conference rooms and various hospitality areas understood to consist a major piece, boosting future revenue.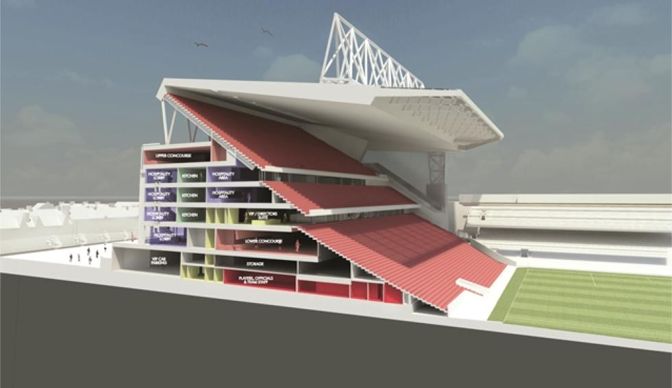 To allow the works to start it was necessary for LFC and the municipality to buy all houses in direct vicinity of the stadium. Though this operation had been progressing slowly over the last decade, last week mayor Joe Anderson tweeted that all houses are now bought and the project may go forward.
Of course it may not, not yet. First the club launches public consultations, allowing fans and Anfield neighbourhood community take a stand on the proposed plans. Online contact is possible from now on, while first public meeting kicks off on Sunday.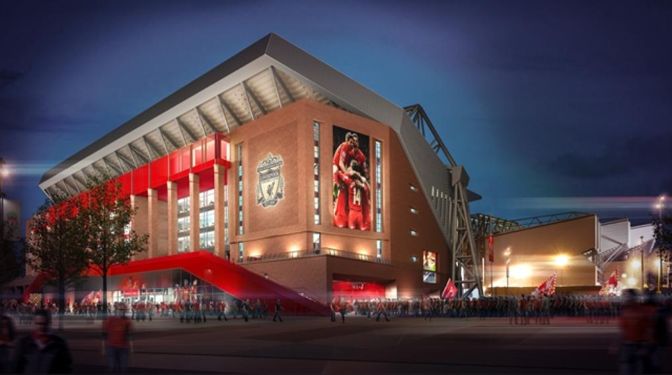 Once the stand is properly consulted on, LFC hope to file their planning application this summer. There's no exact date set as deadline, but it's understood that once the application is filed, Liverpool officials shouldn't block the expansion further and assure works can start as soon as possible.
While 54,000 with the new main grandstand will bring Liverpool closer to top Premier League sides, it's not the end of expected changes. Second phase will see the new Anfield Road Stand (north) expanded by some 4,800 seats, bringing the expected capacity to 58,800.