New design and construction: Stadion Batakan
source: StadiumDB.com; author: michał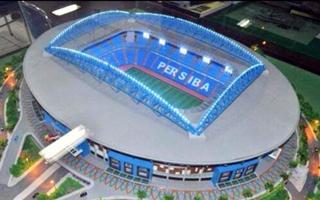 Indonesian stadium projects rarely go in this direction: a large stadium without running track? It's about time for a rectangular one and it's growing in Borneo. Although not as fast as it was anticipated to...
Balikpapan may not be the most famous city of Indonesia, but the easten metropolis is among Indonesia's most important ones across Borneo. There's also a Super League team here, Persiba. And while current attendances are constantly well below 10,000, this might change in the future.

Surely the new stadium should play a major role in attracting people, even if its location far east of the centre may be a downside for fans used to travel minor distances to the current ground.
The new stadium in eastern suburbs was designed by a Jakarta-based company Empat and is a football-specific ground despite its significant capacity of 40,000. Most large stadia in Indonesia are multi-use, while in this case the running track was moved outside, to a secondary stadium planned just west of the main one. Double-tiered stands will be rectangular, with one floor for corporate boxes running throughout its perimeter.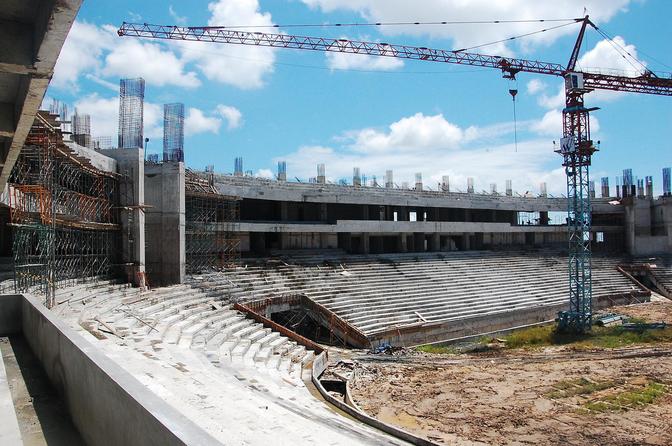 Photo: Anno Malay
While the overall layout is close to 'western stadia', quality of the infrastructure may come well short of what is built in some countries. The cast-on-site structure presents moderate quality, but that's hardly surprising as this stadium is built for a very modest amount of money. 600 billion ruppiah may sound impressive, but it represent roughly $53 million.
Construction began in 2011 and was expected to end this year. However, with continuing funding shortages the pace is far below expectations. As a result only the lower tier of stands is ready so far, while the upper one is progressing slowly. More probable date for an actual opening is 2015, according to our information.