Naples: Napoli to leave city limits?
source: Goal.com / ANSA; author: michał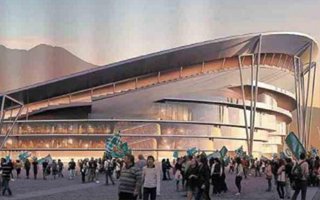 After optimistic end of 2013, now atmosphere around the new stadium for SSC Napoli is very tense. Club chairman Aurelio de Laurentis fears leaving city limits may be the only way out.
Stadio San Paolo may be among Italy's largest, but it's also one of the oldest big stadiums, in need of urgent redevelopment. In recent years a different option was on the table, though. Napoli wanted to build a new stadium (seen below) elsewhere in the city.
In late 2013 encouraging news suggested the municipality and the Serie A team are close to sealing the deal. Now it's starting to look the opposite way. Aurelio de Laurentis was scheduled to meet mayor Luigi de Magistris yesterday, but the latter wasn't present at the office. Unexpected duties were named as cause of absence.
Together with chief of staff at the office Attilio Auricchio, the Napoli official decided to reschedule his meeting for next week, hoping to finally meet De Magistris.
Prior to the supposed meeting Napoli chairman made very strong statements, suggesting his club might even consider leaving the city of Naples, if the municipality fails to meet previous declarations. "I'm tired of it all. If we leave Naples, the mayor will be among those responsible. Italy is a country where regulations obstruct democracy".