Liverpool: Everton to present new stadium this year?
source: nsno.co.uk / StadiumDB.com; author: michał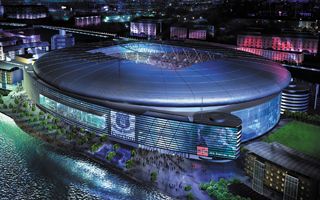 After long wait supporters of Everton FC finally heard some news about their future home. Mayor Joe Anderson revealed in recent podcast that his team is "working hard" with Everton to reveal a solid plan within months.
Stadium issue is a growing one for Everton, whose Goodison Park is severely outdated despite post-Hillsborough revamps. With matchday revenue leaving the club far behind Premier League's top sides, the team continues efforts to find a solution.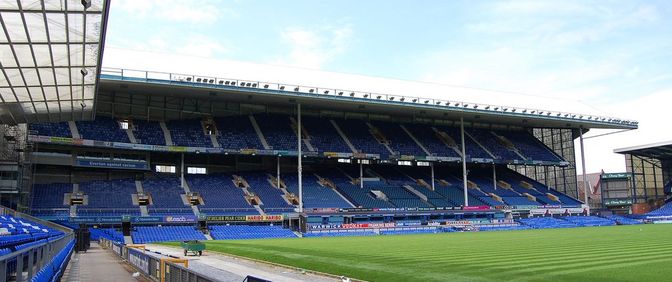 This might be closer than many supporters think after Liverpool mayor Joe Anderson has shed some light on the situation. During a podcast with Everton supporters Anderson assured his officers are working hard with Everton to develop a sound plan.
"We're looking at a number of offers from the club, and we've made offers to them as to how we can help progress things," said mayor Anderson.
"There are a number of sites that we've been considering and we're doing all we can.
"I'm sure that reasonably shortly there'll be a discussion and a debate taking place between ourselves and people of the city about something that we've been working on.
"I'm optimistic that we'll be able to put forward a suitable solution within the next couple of months.
Anderson followed to assure the city will help Everton, but not with direct investment in the stadium plan. Public contribution might resemble that around Anfield – while Liverpool FC plans to expand the stadium, the city is regenerating the neighbourhood.
What's certain at this point, is that no groundshare scheme is possible. Joe Anderson is known for his efforts to get both clubs together in talks over the issue, but now even he admits it's not realistic. "It's not going to happen. The proposals from both clubs are so far advanced now that it's academic, so let's move on from that."
Three times the charm?
Worth remembering, this would be the first attempt to relocate by Everton. First one in recent decades came in 2000, when the Kings Dock project was launched, presented in the rendering. The Toffees were set to move to the riverfront, into a purpose-built 55,000 capacity stadium.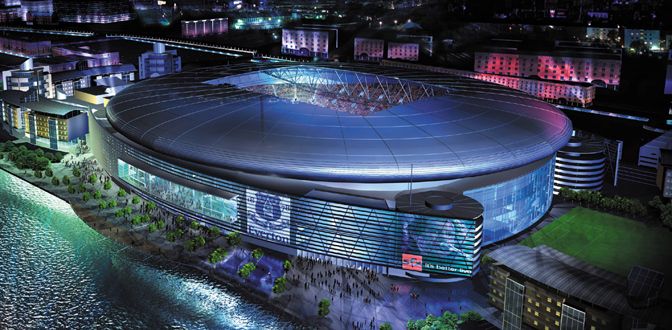 According to the scheme, the ground along with neighbouring commercial and residential developments would have cost some £300 million. The stadium alone was expected to require half of that price and Everton's contribution was set at half the stadium cost. But instead of roughly £75 million, the club came up with 30, not being close to the goal even if selling Goodison Park for an estimated £18-20 million. The plan was dropped.
Another attempt came in 2007. As Everton was informed by the city that no location big enough is available for a new stadium within Liverpool city limits, Toffees made a bold plan to relocate to nearby town of Kirkby.

The project received mixed reactions and despite majority of surveyed fans supported this scheme, strong opposition was raised among more traditional part of the fanbase. Campaigners teamed up with architects to prove that Goodison can be redeveloped properly without the need to abandon Liverpool. The plan was dropped anyhow, because the club's partnership with Tesco was effectively blocked by locals in Kirkby.