Liverpool: Contract signed, renderings next week?
source: StadiumDB.com; author: michał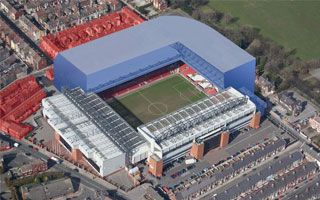 Three signatures were given under a strategic agreement today. All of them are crucial for Anfield redevelopment. Images of the stadium's expansion should be revealed next week.
Tom Werner, the LFC chairman, has signed the heads of terms document that will lead to a formal contract being entered into by the football club, Liverpool city council and Your Housing Group, the three parties involved in the proposed scheme for the overall area.
Werner, who signed the legal document with the mayor of Liverpool, Joe Anderson, and Your Housing's chair, Kathy Cowell, said: "We are pleased that great progress has been made with the city council and Your Housing Group about the plans for the regeneration of Anfield and the unique opportunity that gives us to stay at Anfield.
The overall project for Anfield redevelopment will consume some £260 million. Of that budget the club is expected to invest £150 million (€180m / $250m) in the expansion of Anfield Stadium's west and north grandstands, increasing capacity to roughly 60,000. Details of the stadium concept are expected to be revealed to the community next week.
Apart from the stadium revamp, extensive works will see 300 houses demolished, 500 renovated and 250 built anew. New 96 Avenue and Anfield Square are also planned, while the nearby Stanley Park is to see its green use improved by new attractions.
Some 770 people should find jobs here after the regeneration is complete. Today's signatures are considered a guarantee for each partner of the project that others would not back out from the scheme.