Hillsborough: Quarter of a century without relief
source: StadiumDB.com; author: michał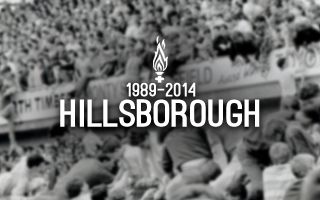 Liverpool FC may win their first championship since 1990, but that's meaningless today. Both stadiums at Stanley Park are commemorating 96 victims of the tragedy that changed football.
Liverpool's situation is unusual ahead of this year's commemoration of English history's most horrible football disaster. On one hand excitment is noticable in LFC coverage across the media as the club may win their first championship since 1990.
Then on the other, newly launched inquest into Hillsborough means scrambling old wounds that still haven't healed. For ten days of April families of those killed in Sheffield on April 15, 1989 have been testifying in front of 11 jurors.
This comes as the outcome of initial investigation was waived in 2012, following the discovery of shameful misinformation and cover-up by the police. New review of the evidence suggests that 41 people could have been saved, should rescue efforts be properly organised.
The tragedies relived by relatives are covered daily by Liverpool, courtesy of the Press Association. Louise Brookes lost her 26-year-old brother that day. Recently she burried her father, earlier having lost the mother too.
"It makes me so angry that both my parents have both gone to their graves without knowing how or why their son died," she said. "No person should ever be deprived of that right, especially for 25 years. I don't have any other family left now and it's up to me alone to fight for my brother. […] I just want to do my brother proud and get him the justice he deserves. […] I don't live, I exist, and I exist for one reason only: to make sure that my brother's life was not in vain." she said on Wednesday, speaking of her experience of Hillsborough.
She and other close ones of those deceased at Hillsborough are taking part in the annual memorial service at Anfield. But this year's commemoration began earlier, last week. Ahead of the Liverpool – Man City game fans at The Kop created a choreo reminding of passing time. What isn't passing is the memory and fight for justice, symbolised by the eternal flame.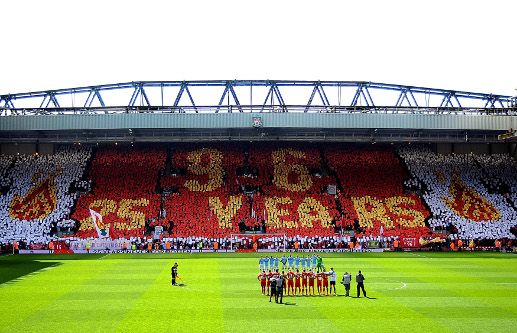 Photo: Liverpool FC
The actual flame in frint of Anfield changed into an altar several days back, with fresh flowers and colourful scarves decorating it as every year. Scarves are also present inside the stadium today as a huge number 96 has been created on the pitch. All of the club colours used come from around the world, they were sent by some 3,200 people as a response to Liverpool's appeal for global solidarity.
There's also a football side that showed solidarity more than once, more than some might expect. It's Everton, who are expected to actively participate in today's service and received thanks from LFC at the club's official website. Worth keeping in mind, many Everton supporters also lost their close ones at Hillsborough and the clubs have been sharing a unique bond of brotherhood since, despite the every-day derby antagonism.
Today Everton are broadcasting a film commemorating Hillsborough for their fans at Goodison Park. Moreover, the club revealed in March that they're planning a permanent memorial to Hillsborough at the stadium.
LFC are showing back-to-back Hillsborough programs today via the official club TV, LFCTV GO. Viewing, including the memorial service (begins at 2:40pm local time), is free for all.