Belgium: Green light for Waregem stadium revamp
source: Sport.be; author: michał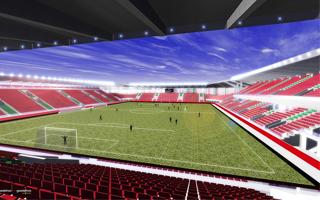 Council members approved the planning application for Zulte-Waregem home stadium's redevelopment. Reconstruction should begin as season ends and delivery is planned next year.
Waregem city aldermen (council members) approved the complex renovation of Regenboogstadion. First phase of the revamp should see both end stands dissapear and along with them parts of two remaining grandstands.
The goal is clear: having a compact, modern stadium with uniform appearance, fully enclosed and football-specific. Capacity won't increase along with the operation, because vast terracing will be replaced by seated sections, making 13,000 seats the goal.
Reconstruction should begin immediately after the current league season and finish within one year. This means in 2015/16 tournaments Zulte-Waregem shouldn't have the problem of holding European games at neutral grounds. Last year they had to play in Brugge as their stadium was unfit.