Warsaw: Record-breaking windsurfing event at Narodowy
source: BoardSeekerMag.com; author: michał
Poland's largest stadium is expected to set new record as the largest ever venue for indoor windsurfing event. 3,000 tons of water will fill the playing field, while 34 large blowers will create the wind.
While the stadium operator didn't announce the event, PWA World Tour already confirmed that Stadion Narodowy is hosting one of the tournament's events, on Sept 5-7.
The showcase weekend will mark a new record for indoor windsurfing with 40,000 seats available for spectators. The stadium's capacity is just under 60,000, but some seats will need to be closed off due to 34 large blowers along the pool creating necessary wind. Wind speed near the fans will be 65km/h and fall by 50% on the opposite side of the pool.
The pool itself will be 90 meters long and 33 wide. With one meter in depth this means roughly 3,000 tons of water directly on the central platform of Stadion Narodowy.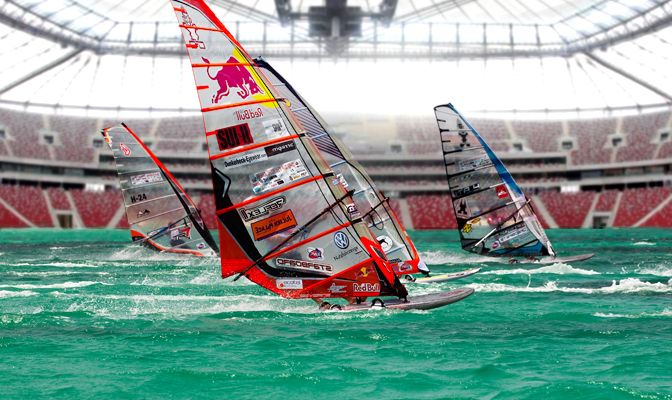 Though there are underground parking lots beneath the proposed pool, there's no risk of flooding with the concrete base being specially reinforced during construction. And while the stadium has no football field on regular basis (installed only for national team games), there's no fear of deteriorating it.
Worth noting, the Warsaw-based stadium wasn't selected by accident. PWA organizers assure they're well aware of the ridicule from October 2012, when retractable roof wasn't closed in time and the field was severely flooded by storm right before Poland-England game. The match was abandoned as drainage couldn't cope with the amount of water.
This earned the stadium a negative nickname of "National Pool" that's often used by critics to this day. In September 2014 Narodowy may prove that a pool is just one of many things it may become, if demand requires…