Texas: McLane Stadium opening in August?
source: star-telegram.com; author: michał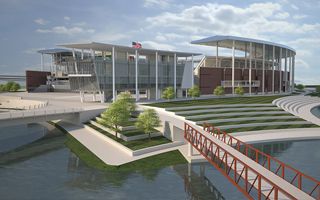 It's almost set, the opening game of largest new stadium being currently under construction in Texas. McLane Stadium will most probably not be opened by the home team, the Baylor Bears.
McLane Stadium in Waco is unique among other NCAA football stadiums, most of which are completely uncovered. This one has most seats under a wide U-shaped roof. Only the south end remains open, allowing many of the 45,000 people to have a look at the Baylor University campus.
The interesting design by Populous is now almost finished on site. Last construction works are ongoing to see the overall structure ready. Meanwhile installation and furnishing phases are ongoing to see the $250m stadium ready this summer.
No wonder the opening game is now on agenda. Most probable scenario will see McLane Stadium play the role of neutral ground for Aledo Bearcats and Cedar Creek CPHS Football team. Both are close geographically and both recently won their divisions, now fighting a prestigious battle for supremacy.
The game is expected to be held on August 29, but an agreement with Baylor University still has to be reached. At their previous ground the university charged $7,500 per team plus $1 for every ticket sold. With the new stadium fees will most likely go up, but shouldn't differ too much. Or so is the hope of match organizers.
Baylor Bears, the key future tenant, will stage their stadium opener one week later.