Poland: Białystok roof to collapse or not to collapse?
source: StadiumDB.com / PAP; author: michał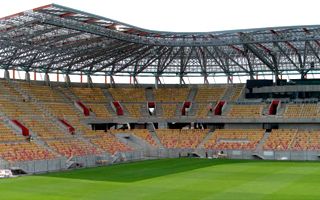 This has been the question for weeks. Former contractor accused the design of severe flaws that may lead to tragedy. But no expertise confirms that the roof structure in Białystok could fall onto the stands.
It was early February, when former contractor, the French company Eiffage, alarmed an influential journalist about the risk of roof collapsing on fans in Białystok. The news came after independent experts carried out a thorough analysis of the concrete and steel structure.
Professors of Politechnika Gdańska decided they cannot call the roof safe, which was emphasized by Eiffage. The company currently runs a court battle with the Białystok municipality after authorities terminated their contract for vast delays in construction.
What came less noticed is that the experts stressed the roof isn't unsafe as well. There just isn't enough data, according to them. It's considered that a potential high vertical pressure, like excessive snowfall, might pose a threat to the structure's stability, but it doesn't have to be the case.
Photo: es12077
Still under construction, the new 22,000-capacity stadium indeed has a roof design unlike any other stadium. Created by domestically renowned Warsaw architectural practice APA Kuryłowicz, the roof balances function with aesthetics, being also the external cladding of the new stadium. White and orange steel supports are harmonized with the internal concrete superstructure. The Gdańsk technical university experts question whether aesthetics didn't dominate function, but didn't want to give any final statements.
Based on the concerning outcome of their analysis, local construction supervision body did their own check to ensure supporters wouldn't be exposed to any unnecessary risks. Today results of the safety check were presented, clearly stating the structure works as it should and there is no cause for concern.

Photo: es12077
Eiffage and the Białystok municipality both sued each-other. The municipality demands compensation for lost time and cost increase caused by Eiffage's extremely slow work progress, behind schedule by several months upon contract termination. Meanwhile Eiffage argues the termination was unlawful and also wants compensation.
Currently the project is carried out by Spanish OHL contractors. It's again behind schedule, but this time it wasn't the contractor's fault – their Polish partners went bankrupt after having won the tender, when the domestic construction market collapsed after Euro 2012. Final cost of the stadium is now estimated at over PLN 250 million ($83m / €59m), seeing a huge increase of 60% after problems with Eiffage.