Perth: 60,000-seater preparatory works completed
source: au.news.yahoo.com; author: michał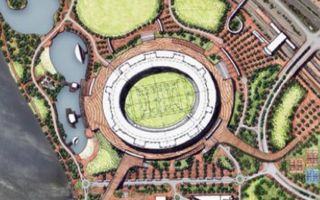 Not only have the preparations for new Perth Stadium ended, they were also carried out six weeks ahead of schedule – The West Australian reports.
"The pre-construction site works are critical to ensure the ground is fully prepared for the stadium and sports precinct construction due to start at the end of 2014," state prime minister Colin Barnett said this morning.
"The work involved the compaction of nine hectares across key areas of the site and installation of 55,459 wick drains to provide a drainage path for groundwater up to the surface. More than 740,000 tonnes of sand surcharge was then placed across the site. The sand will be left to settle for the next six to nine months, ensuring optimal ground conditions ahead of the start of construction."
Preparatory works on site began in June 2013, while design and construction tender wasn't announced yet. Three consortia submitted their interest by the end of 2013 to deliver the new stadium. 60,000 seats at the new Perth Stadium should be completed in time for the start of the 2018 AFL season.