New stadium and design: The present and the future of Gibraltar
source: StadiumDB.com; author: michał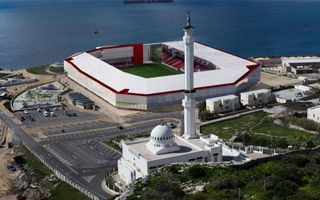 UEFA's latest member association has a great football tradition ranging back to 1895. But currently the only stadium in Gibraltar isn't able to hold international games. That's why a new world class one is planned.
This year Gibraltar's first Euro qualifiers will take place, despite the association filing their first UEFA application back in 1990s. Once they're finally a member, the national team have to play their home games in Portugal. Which isn't all that far, of course…
The current national (and only!) stadium in Gibraltar lies just 200 meters from the territory's northern border, across the fence with local international airport. The latter is why floodlight masts have additional colour/light marks.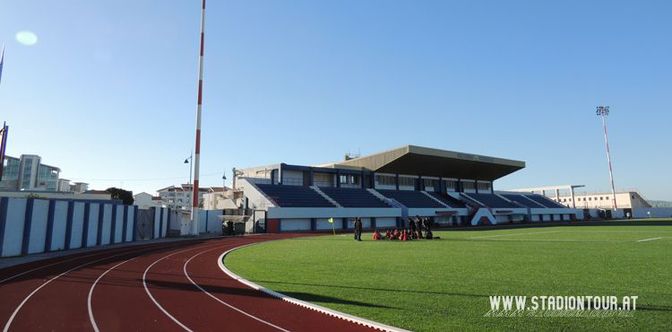 Photo: StadionTour.at
Being the only stadium in Gibraltar, the ground houses all games of local leagues on its synthetic pitch. A natural turf wouldn't be able to withstand the constant use. Up to 5,000 people can watch games on the main grandstand and two side stands in the east, a number that would be much smaller if seats were installed.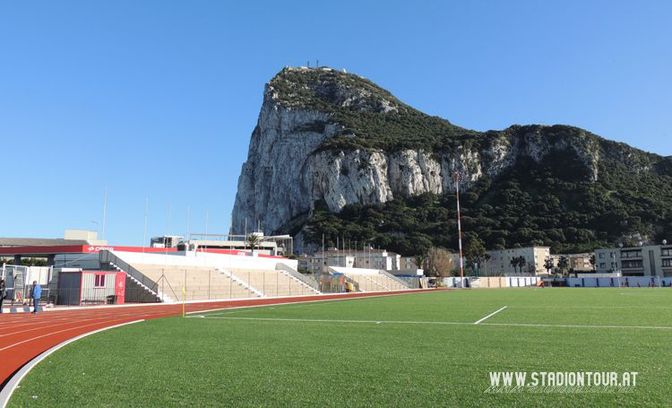 Photo: StadionTour.at
It's the heart of largest local sports complex and gives a stunning view of the Rock of Gibraltar south.
After Gibraltar's inclusion to UEFA in May 2013 the idea of a new international stadium appeared. It would be situated on the other end of Gibraltar, in Europa Point.
The only plot able to hold a modern stadium is Europa Point, previously a cricket ground and a stunning location overlooking the Strait of Gibraltar. The stadium is to take a modern, angular form, almost completely enclosed. With mostly translucent and partly transparent glass cladding, it's supposed to appear light by day and glow like a lantern by night.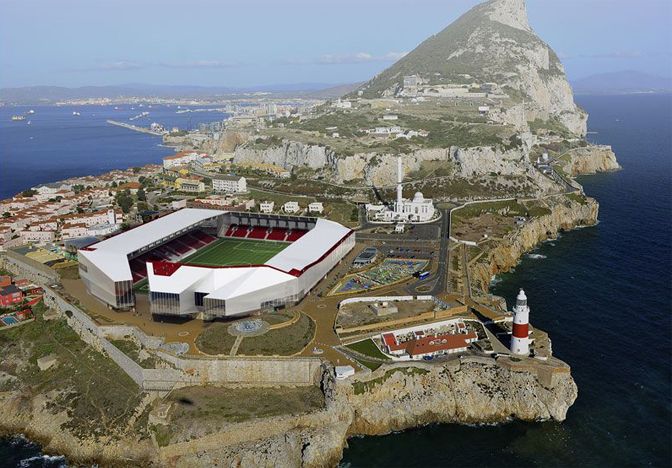 Image: EuropaPointStadium.com
Combined with its location, it may be a new landmark and one of first buildings seen by crews and passengers of ships travelling through the Strait.
The whitish exterior also represents the colours of Gibraltar with red accents. Inside it's mostly red, creating a much more vibrant environment. South stand is expected to be low with the tall glass wall allowing other viewers to have a peek at Africa on the other side of the Strait. There will also be viewing points created on the very south stand.
Construction is expected to take 18 months and may be done in 2016.

Image: EuropaPointStadium.com

Image: EuropaPointStadium.com