New design: De Kuip by Erick van Egeraat
source: StadiumDB.com; author: michał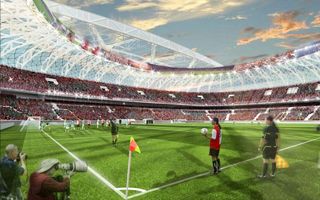 The only candidate-vision of Feyenoord's stadium redevelopment so focused on exposing the historical structure. Erick van Egeraat thinks a tribute to initial creators is key for new De Kuip.
Almost all major players in architecture and construction in the Netherlands prepared their visions of how the most famous stadium in the country should change. Another vision presented at StadiumDB.com is the one by Erick van Egeraat.
A different project by this architect's team presented by us so far is the initial concept for Dynamo Moskva new stadium. We remind of it with a good reason, because one feature of that design is also present here, in van Egeraat's De Kuip. The circular retractable roof is something we've seen in more than one rendering, but that was never done before in reality. Should Stadion Feijenoord be the first?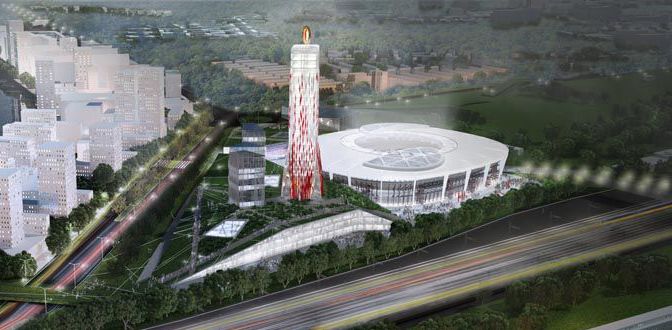 According to Egeraat – yes. The architect argues large stadia need to operate as multi-functional venues able to hold non-sporting events, also with closed roof.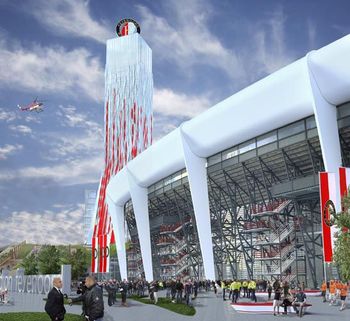 Not only that, Erick van Egeraat sees this as an important part of his plan to revive the underprivileged southern Rotterdam. He hopes the stadium could become a leisure hub bringing people from across the Netherlands and beyond, but most importantly: serving locals. To create further functions, the Dutchman's team suggests building a high-rise tower and surrounding commercial outlets to make the complex truly 24/7.
But while daily operation would change significantly, Erick van Egeraat wants his vision of De Kuip to respect the historical structure as much as possible. This is why steel staircases of the stadium wouldn't be covered with any fancy new cladding. Only the new roof would dwarf them, but that seems impossible to avoid with the demand to increase capacity.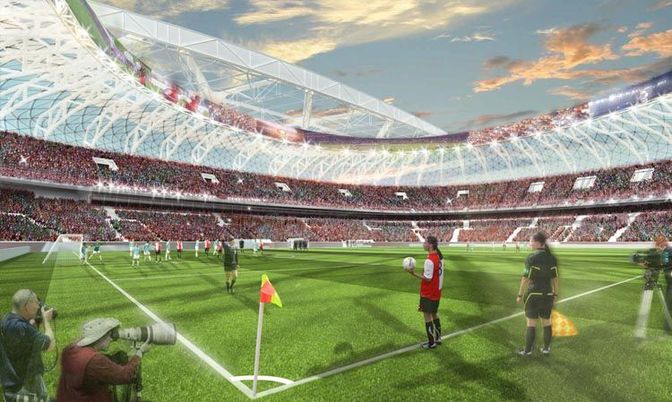 Still, with stands growing to over 60,000 capacity, van Egeraat's office thinks keeping a two-tier layout is most prudent. This would be another tribute to the oval bowl from 1937 and at the same time seems feasible.
5,500 new seats would be created between the field and first row of the steel stands, while the upper ring would see a similar expansion upwards. New entrances and staircase layout on both tiers wouldn't significantly change the structure.