New design: David Beckham's Port of Miami Stadium
source: StadiumDB.com; author: michał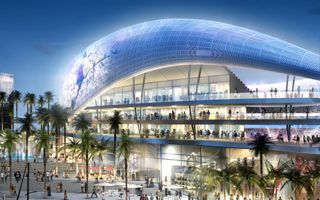 Revealed yesterday, here is the stadium David Beckham hopes to see standing in Miami by 2018. But there are many obstacles along the way, so other locations are still being considered.
Yesterday David Beckham himself presented what his capital group has been working on in recent months. The initial concept of a new downtown Miami stadium sees football fans located on Dodge Island, within the Port of Miami.
With budget roughly estimated at $200 million, the new stadium might hold between 25,000 (most commonly presented number) up to 35,000, confirmed by the MLS. The league's officials also took part in yesterday's presentation as they overlook Beckham's efforts to join MLS for the 2018 season.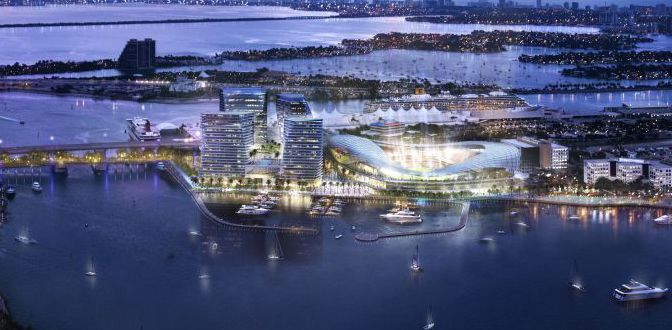 Visually light and dynamic, the stadium was designed by joint teams of Arquitectonica and 360 Architecture. It provides cover for majority of spectators, while the roof is undulated, giving thousands a great view of Miami downtown. Together with perforated external cladding the roof should also benefit from natural breeze to ventilate the stadium properly.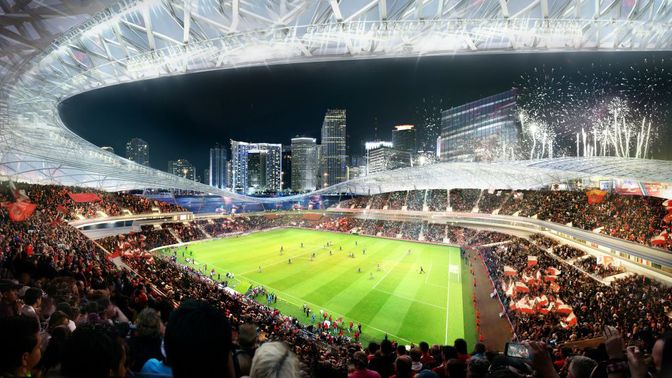 Besides regular football use there are also secondary uses planned within the building and its adjecent plaza: shops, maybe a Beckham museum, and open terraces. It would also have a nightclub open year-round to the public.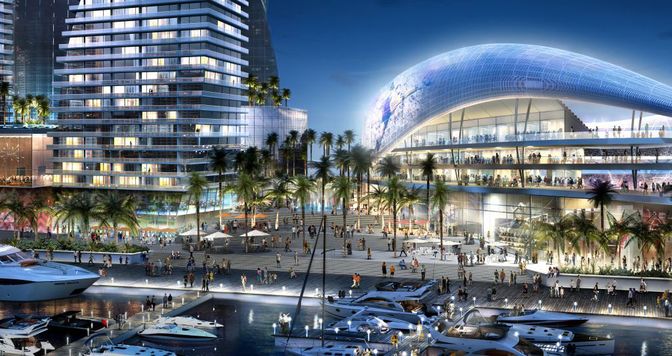 Four office buildings seen left/west in the renderings aren't part of the scheme, at least not at the moment. Beckham's groupd expressed the will to masterplan them, but they're just expected to give an idea of the site's full use. They're relevant for a different reason, though.
Port of Miami is expected to become the expansion site of Miami's downtown. Local authorities consider activating 650,000 sqm of office space there, for which the stadium 'steals' some land. This is where Miami Beckham United argue there's no actual need for that much space with many offices being vacant in downtown already. Their offer gives under 100,000 sqm to office use and more to leisure and retail.
With little room for offices, there's also little for parking spaces. And this became a major issue as the stadium was presented. Beckham is expected to ensure 5,000 parking spaces near the stadium, which is virtually impossible.
Designers suggested using the abandoned drawbridge leading to downtown, where most fans would leave their cars. It would be redeveloped into a linear park connecting the office district with the football stadium. At nighttime games local office parking lots would be available, while the port itself also gives some options after cruise ships depart.
Will Miami citizens be willing to walk a mile to the stadium if they're used to driving everywhere? This is what legendary English player hopes to talk to them about. David Beckham claims he likes challenges and is willing to consult his plans with the public.
However, a different problem may block the stadium's construction even with parking and traffic issues out of the way. Royal Carribean ship operator, the potential stadium's eastern neighbour, openly opposes the project. Meanwhile Royal Carribean is also the only potential partner for a multi-storey parking lot near the stadium.
If the County Commission doesn't agree that soccer at the port is a good idea, "we'll play somewhere else" in Miami, said John Alschuler, Beckham's real-estate advisor. "We want to come to the port only if we're an asset to the port," he added. "If we're a liability to the port, then we shouldn't be there."
What if the port stadium falls through? While the plan reasserts the port site as the Beckham group's strong favorite, the investors say they're also seriously considering three other sites as backups: land abutting Marlins Park, the preferred alternative; an industrial parcel adjacent to Miami International Airport's auto-rental and mass-transit hub; and by Florida International University at Tamiami Park.