New design: AS Roma's own coliseum
source: StadiumDB.com; author: michał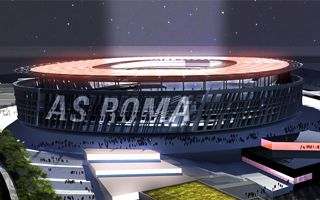 A modern rendition of the Coliseum, of traditional Roman piazzas and and the atmosphere of Curva Sud. Joined by maximised revenue streams and green technologies, the new AS Roma stadium should live up to all expectations.
The club asked their fans to wait very, very long for official renderings. But now that they're out, previous declarations and announcements seem to have come to fruition. The proposed new stadium by renowned architect Dan Meis, as expected, shows clear connection to the Coliseum.
Apart from contemporary steel and glass, it's going to be decorated with stone. But while it may sound heavy, the stone structure will create a dynamic, lightweight scrim around most of the structure. Not only will it be highly perforated and sloped, it will also hang above ground.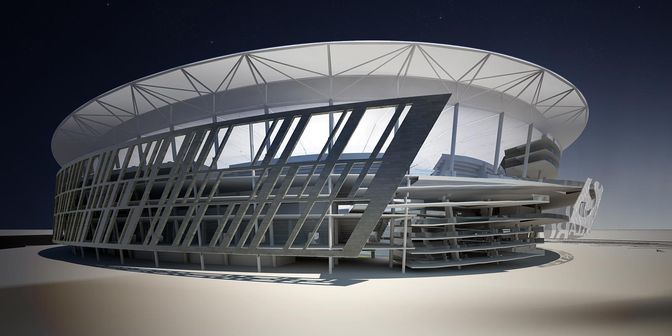 Image: Stadio della Roma
Before fans enter what's waiting inside, they find themselves on a vast promenade divided into smaller, cosy areas with Roman pines, water features and raised seating areas. As the entire concourse will be elevated 13 meters above ground level, it should give a pleasent view of the Tiber River nearby and surrounding architecture.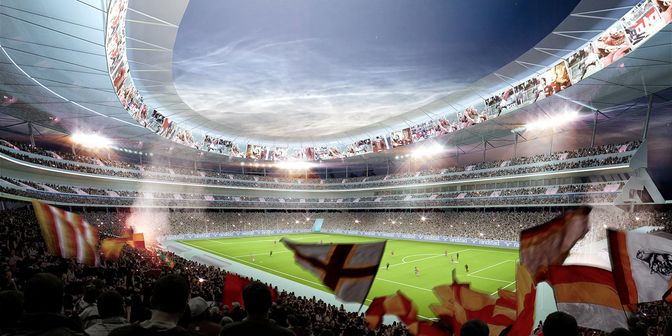 Image: Stadio della Roma
Upon entry supporters discover a clear division of the stands. Not only the common horizontal division into three seperate tiers, but also a horizontal one. West, north and east sides will create a U-shape, while the lone south stand is the new Curva Sud for fanatic, most vocal supporters. And quite a few of them – 13,660.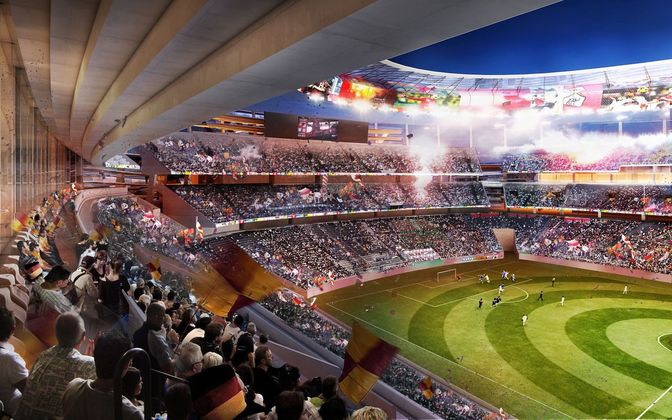 Image: Stadio della Roma
In total the stadium should hold 52,500 people for Serie A fixtures, but a temporary (or possibly permanent, if needed) expansion to over 60,000 is possible. This should allow the stadium to bid for a Champions League final.
That number includes a significant amount of premium seating. 8 club lounges of 10,400sqm, 50 skyboxes (20 larger one in west stand and 30 smaller in east stand) and 7,930 club seats within the stands.
The entire structure should be covered by a tensile cable roof, covered with membrane and glass. This common technology doesn't allow regular photovoltaic batteries atop, but creators of the concept at MEIS Architects assure it will be "the first truly sustainable major sports venue in Europe that incorporates a carbon neutral footprint, maximum recycling capabilities and state-of-the-art renewable energy and conservation programs".
Construction on the site of former hippodrome in Tor di Valle (south-west of Rome, with subway, highway and city bypass nearby) should start in the third quarter of this year. AS Roma estimate it should take 24 months to deliver the stadium. This means the Wolves will play their first home game at the new location early into the 2016/17.