Minneapolis: Only rubble left of Metrodome
source: StadiumDB.com; author: michał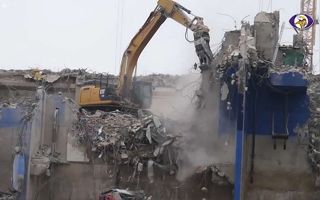 Two implosions and gradual demolition of all remaining facilities – this is how Metrodome disappeared from the Minneapolis skyline within just two months. Ground works for the new stadium are half way done.
Very last deflation of the pneumatic roof over Metrodome was carried out on January 19. Since then we've seen two partial implosions tearing down the cable roof and upper stands elements. Over the last several weeks slower, less impressive gradual deconstruction of the remaining structure took place.
Since March 19 there's barely any sign of the stadium ever occuppying this lot, though Mortenson Construction have one more month to demolish the stadium in their schedule.
Contractors are planning to reuse vast majority of the rubble, including 80,000 tons of concrete that will be recycled for use in other building projects. 2,500 tons of structural steel have been reclaimed and are being prepped for recycling off-site; 2,000 tons of steel remain in the existing structure and will be recycled. Earlier the entire roof structure was recycled.
While the demolition of the Metrodome is moving at a rapid pace, construction of the new facility also continues on schedule. The changes to the site on a weekly basis are drastic.
Excavation work is nearly 50% complete with more than 400,000 of the estimated 850,000 cubic yards of dirt having been removed. Almost 15% of the new stadium's drilled piers have been installed (40 of 300).
Below you can see the change between February 21 and March 21, while more construction photos can be found in our monthly gallery.