Japan: The unique tradition in Sapporo
source: StadiumDB.com; author: michał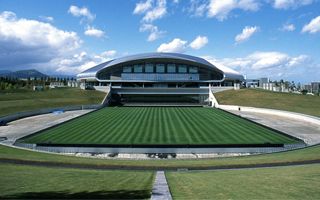 Football clubs often reach out to football fans with various needs. But what may seem like another cleaning works doesn't usually transform into a traditional pre-season meeting that draws hundreds.
Sapporo Dome is an exceptional stadium. The only stadium that's fully covered, can host both football and baseball and has a sliding natural pitch. The field rests outside most of the time, being rolled into the arena before football games.
At the same time this 2002 World Cup venue is Japan's northernmost large stadium. It's not accidental that a domed stadium was built here in Sapporo, where winters are longer and see more snowfall than in most of the country.
The roof guarantees events can take place no matter the weather, but it also leaves the field outside, covered in snow, for the entire duration of season breaks. At the same time the sliding turf cannot be cleaned with heavy equipment, which could challenge its quality or operation.
The answer to this problem was found almost naturally: supporters of local club, Consadole. Since 2003 they always meet one week before season opener and grab snow shovels alongside team officials. Teenagers or seniors, no matter the education or occupation. This year's Saturday meeting was the 12th so far and some 240 people showed up. With that many participants, the grass was clean within two hours, as depicted below at Keiko Sasada's photos.
Japanese press covers this event as a traditional meeting of fans, stressing the enthusiastic approach. Some quotes of participants suggest they're very happy to prepare the pitch that Consadole players will use throughout the J.League season.
Worth noting, this isn't the only challenge taken up by Consadole fanbase. Supporters have already saved the club from insolvency in the past and can form some of Japan's largest crowds for games. Their last season closing match had attendance above 24,000, though they only play in second league and have never won anything more than promotion to the first.
This year's first game comes to Sapporo Dome this Sunday, March 9. Consadole faces Montedio Yamagata, a club whose fans also prove themselves worthy and help clean their stadium…
This year's spring cleaning. Before:
Photo: Keiko Sasada
After two hours:
Photo: Keiko Sasada