Hamilton: Tim Hortons Field six weeks late
source: thespec.com; author: michał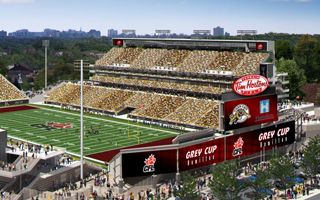 The consortium behind Hamilton's new stadium warns of setbacks in the project's delivery. Weather conditions and subcontractor bankruptcy are the reasons, but opening remains set for the Tiger-Cats' first home game.
Council received a letter last week from Ontario Sports Solutions, the consortium building the stadium, warning of construction delays of up to six weeks due to the December ice storm, ongoing frigid weather and the loss of a major masonry subcontractor to bankruptcy.
Site supervisor Garreth Barkey told a city subcommittee Tuesday the consortium is still aiming to have the $145-million stadium finished before the Ticats' scheduled season opener July 26.
This may involve some time-saving cuts like only temporary concession stands instead of those permanent. Some parts of the stadium may be left for delivery at a later date, but all of the infrastructure connected with safety and security has to be done before opening.
"If we can reclaim even two weeks (of the projected delay) we'll be playing there on the 26th" said Ticats president Glenn Gibson.
Below you can see the eventual layout of Tim Hortons Field in a virtual walk-through.