Germany: Kaiserslautern stadium too big?
source: volksfreund.de; author: michał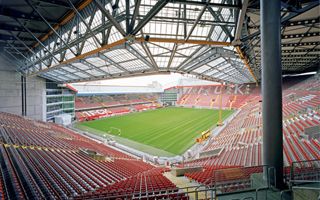 In yesterday's TV program an unexpected statement came from 1. FC Kaiserslautern CEO Stefan Kuntz. The official said Fritz-Walter-Stadion is too big and too expensive for his team to use.
During yesterday's Zur Sache Rheinland-Pfalz! TV program, chief executive of 1.FCK stressed that the stadium expanded ahead of the 2006 World Cup doesn't meet the club's expectations.
It's simply too big. With capacity of almost 50,000 (including terracing) the municipal Fritz-Walter-Stadion gets regular attendances of 30,400 or 60% of the overall capacity.
"And it's not only the size", Kuntz argued. He reminded viewers that the sole operation costs for the venue stand at €10 million per year, creating a real burden for the club, currently playing in the 2. Bundesliga.
The statements by Kuntz come in a difficult moment, because the lease of Fritz-Walter-Stadion was recently put into question by a taxpayers association. They argue 1.FCK has a very comfortable contract that may stand in opposition with the city's best interest. The issue will be looked into by the state's finance comission, while municipal audit showed no irregularities.