Design and construction: Tim Hortons Field
source: StadiumDB.com; author: michał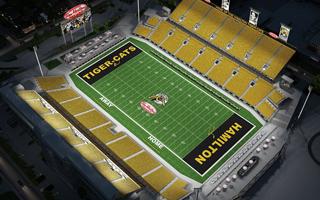 Already this summer Canadian football players move here. Then next year association football will see its first games at Tim Hortons Field. The new $146-million stadium is four months away from delivery, so be sure to check it at StadiumDB.com from now on!
The fate of outdated Ivor Wynne Stadium seemed sealed already last decade, but the ground eventually stood at Balsam Avenue until late 2012. This is when it gave way to the new stadium, later announced to bear the commercial name of Tim Hortons Field, after a restaurant chain originating here in Hamilton, Ontario.
The deal worth $750,000 per year lasts until 2023, providing an important contribution to the public budget. Further $450,000 will be paid for tenancy by Tiger-Cats, the Canadian football team that secured 20-year tenancy just days ago. Further $200,000 should be brought in other events' rent, while $150,000 per annum is the price for a football club to settle here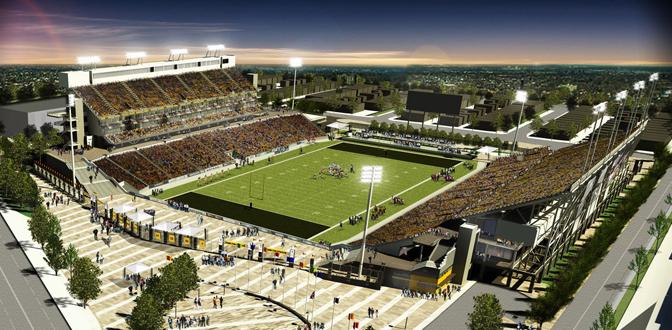 Image: Hamilton Tiger-Cats
Altogether yearly revenue to the municipality represents $1.4 million, not even 1% of the project's total worth. Estimated from the beginning at around $150 million, the stadium's current price tag stands at $145.7 million (or US$130m / €95m). Largest portion of the funding came from federal resources ($69.1m), second contribution is the city's (54.3m), while provincial authorities supplied the remainder ($22.3m).
The announced price gets Hamilton a new stadium built differently than the 84-year-old Ivor Wynne Stadium in many ways. First of all, the new ground will shift 90 degrees to a north-south axis from the east-west format. Covering 5.45 hectares, Tim Hortons Field will thus receive a more conventional orientation, with the main grandstand with most hospitality spaces in the west (altogether some 30 skyboxes and 1,100 corporate seats).
Image: Hamilton Tiger-Cats
22,500 individual seats will be placed along the pitch, on double-tiered stands. Both ends are designed to remain open and hold only terraced bars overlooking the pitch, holding further 1,500. This layout may change temporarily for large events, like the Grey Cup game, seeing single-tiered tubular stands for further 13,500 people built (reaching 35,000 seats).
Construction began in early 2013, when the old stadium was demolished and made way for foundations. As the new structures are built with precast steel elements, progress may be seen almost daily. From now on, thanks to Jim Upson's great support, we'll be able to show you that progress until works end this summer.
There's little time for delivery, which matters not only for the Tiger-Cats, but also for 2015 Pan Am Games organizers. The tournament planned in and around Toronto will see 32 football (soccer) games held at this very stadium.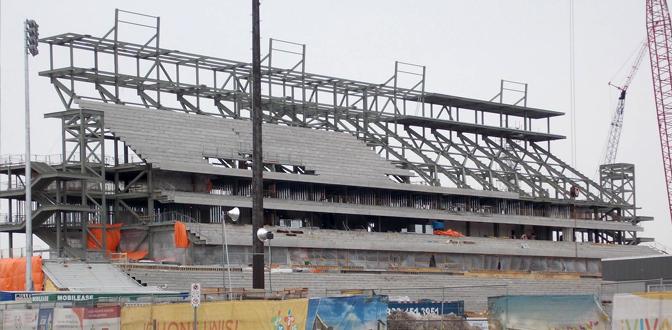 Photo: Jim Upson