Belo Horizonte: Mineirão given extreme weather test
source: StadiumDB.com; author: michał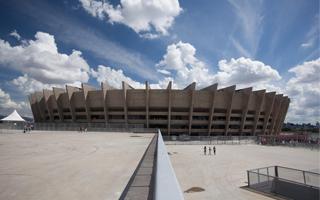 Just hours before yesterday's Cruzeiro home game a massive storm went over Belo Horizonte. Stadium roof was slightly damaged, while field drainage couldn't cope with the excessive amount of water. Still, the game was held without problems.
A few hours before yesterday's clash between Cruzeiro and Minas Boca, large storm gave Mineirão's drainage installations a severe test.
Elements of the metal gutters atop the roof were detached with excessive water flow and wind, then pushed off the roof and down onto the playing field. 3-meter long, these pieces of metal could have hypothetically pose a threat, should this happen during an event. Of course only hypothetically, because no event would normally take place in such extreme weather conditions.
While moving towards the field, three metal pieces tore minor rips in the roof membrane of Mineirão, meaning repair works may prove costly.
Also the field's drainage couldn't cope with the excessive rainfall and large puddles of water were created near sidelines. Stadium workers had to push the water off the field themselves to ease the drainage system.
The problems were dealt with before game began and Cruzeiro won their home encounter easily, 4:0.