Athens: AEK stadium groundbreaking in May?
source: GreekReporter.com; author: michał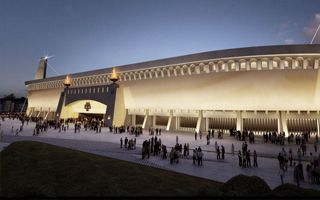 After consultations there's already a ministerial signature to allow the new AEK stadium. Three more are needed for construction to begin, but AEK hope they'll be able to break ground in May.
Greek minister for environment, energy and climate changed signed a bill to allow AEK Athens redevelop the Nea Filadelfia area in Athens. Giannis Maniatis is one of four ministers that need to approve the bill altogether, with interior, finance and culture ministers asked for their signatures. All of them are said to support the bill.
The new bill must then be submitted to the Greek Parliament for approval. The whole procedure will take about a month to be completed and then AEK F.C will be able to acquire the building permit in order for the Hagia Sofia project to come into being.
Meanwhile, club officials are waiting from the General Sports Secretary to approve the stadium's construction plan, but estimate that construction will start in May.
AEK's chairman Dimitris Melissanidis urged the club's fans to buy shares of the newly founded company, "Dikefalos 1924", which will be the main sponsor of the stadium's construction, in the region of Nea Philadelfia. In this way, the supporters will fund the construction of AEK's new home ground.