Qatar: Lusail Iconic Stadium next on the list
source: constructionweekonline.com; author: michał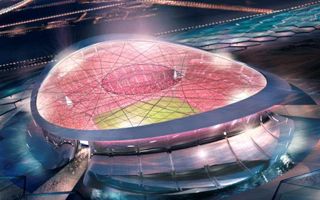 After Al Wakrah entered construction phase and Al Rayyan saw design team appointed, more details on the 2022 World Cup largest stadium are expected now. Report by Construction Week Online.
Qatar's 2022 Supreme Committee for Delivery and Legacy is progressing the flagship Lusail Iconic Stadium as the next of the grounds to be brought forwards.
The company announced the appointment of design and programme managers for the second stadium at Al Rayyan earlier this month, but the senior manager of its technical assurance and integration team, Dario Antonia Cadavid, told CW that it is already "in the procurement process" for the Lusail stadium.
"The two that are fully firmed is Al Wakrah and Al Rayyan, and Lusail will be coming next," he said.
Cadavid said that Al Wakrah and Al Rayyan were the first two stadiums to be brought forwards as agreements were signed with the respective local sports clubs that provide a post-tournament use for the grounds.
Lusail Iconic Stadium is the proposed venue for the 2022 Fifa World Cup tournament's opening and final games. In its bid document, Qatar proposed an 86,250-seat stadium within the new 35km2 Lusail City being built 22km north of Doha.
The initial concept of the stadium was developed by Manica Architecture in 2010. The plan envisages the first ever stadium with fully retractable cable-support roof. Whether this feature will be included in the final design remains unclear at this point.