Nomination: Tele2 Arena
source: StadiumDB.com; author: michał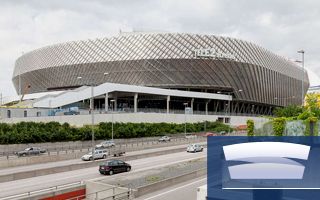 Not without some concerns, the new multi-use stadium in Stockholm received a warm welcome and has been properly tested by supporters from its first weekend in operation. Today it's already a major event hub both for football and concerts.
The search for optimum location and operating model wasn't easy, as it began back in 2002. In 2007 the project gained pace and renderings of the stadium were first presented in 2008. By 2009 social consultations were carried out and gave an overwhelming support for the project. The new stadium in southern Stockholm was to stand just meters south of the famous Globen arena.
Of course, as in any project of this size, concerns were raised regarding traffic and possible impact on local community's living conditions. Quite rightly, because the available land was very limited and the question whether a 30,000-capacity stadium may be built there at all seemed well justified.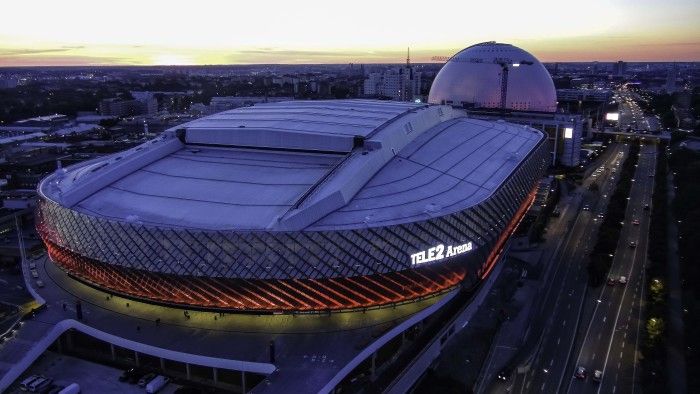 That's why White Arkitekter faced a major challenge while planning the future stadium. Not only is the capacity significant, but a retractable roof had to be fitted as well, followed by extensive commercial and event functions. Then there's also the issue of segregating opposition supporters, access routes and on top of that sustainability and environmental impact.
Despite the difficulty level, Swedish architects (supported by global practice Arup) completed their challenge successfully. The outcome is a stadium pragmatic in every way, frugal aesthetically to meet all remaining expectations. Seating layout is very compact in order to fit over 30,000 people on two tiers. Even entries for equipment were limited to one regular gate and one more hidden under a standing section that goes up when required.
In fact, the only decorative element is the external cladding of 20,000 sqm, consisting of folded and perforated metal sheets. With the selected material Tele2 Arena shines both by day and by night, while the façade is only one meter away from walls/windows of the building not to waste space. With that in mind, it's worth noting that the final visual effect is just as it was intended, which you may compare below, seeing a rendering and photo of the stadium.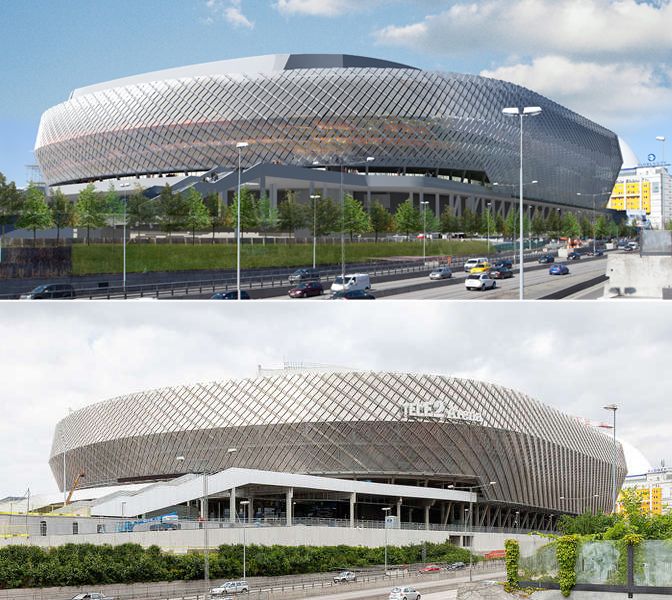 White Arkitekter are proud to provide all spectators with optimum viewing conditions and indeed the bowl is very intimate, even visually smaller than in reality. But obstructions weren't avoided as massive supports for roof trusses had to be fitted on both ends. This forms a compromise that seems inevitable with existing constraints.
Still, the massive steel roof structure didn't grow too high up, topping at 39 meters and retaining the nearby Globe arena as the highest building at 93 meters. Not dominating the landscape excessively, the roof has two mobile segments that turn an open-air stadium into an indoor arena within 20 minutes.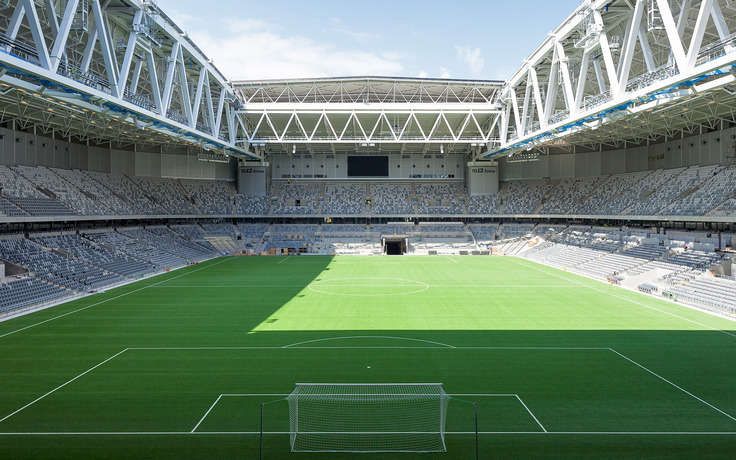 Controversy wasn't avoided as two temperamental groups of fans were moved to the new stadiums. For the traditional clubs of Hammarby and Djurgårdens relocating was a must, because their previous stadia (Söderstadion and Stockholms Stadion) were both outdated and too small to assure long term development. For the fans it was a question of identity, because both previous home had a very strong one. Mutual provocations including argument about unofficial naming and opening, even a bomb threat.
Both fanbases were thus included in the stadium's consultation process, receiving two vast standing sections to satisfy their needs. Accommodating the fanatical support wasn't White Arkitekter's only concern as both sets of fans are famous for using a lot of pyrotechnics, which they proved to be true on the opening weekend already. But at the same time Tele2 Arena proved to cope well with the created smoke, scoring another point for its creators.
It seems the size of 30,000 (and 40,000-45,000 for concerts) was well thought-through for the long term use. Both clubs showed they can fill it, both set new season ticket records. Meanwhile the operator was able to contract major concerts for months in advance, making the future look bright for Tele2 Arena.
Combining a traditional football approach with modern commercial arenas isn't easy. Did the Swedes do well? It's up to you to decide, time for Stadium of the Year 2013 runs out on midnight (CET), Saturday Feb 22!