Nomination: Itaipava Arena Pernambuco
source: StadiumDB.com; author: michał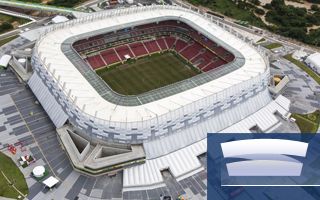 Recife's most famous stadiums had been located in the centre. Until mid-2013, when the city's best stadium opened far in the woods. It's expected to become a new hub for sports and shopping within the next few years.
Both of Recife's major football stadiums lie near the heart of the city. But also both of them are too small and outdated and most of all – too tightly surrounded by other buildings to be a good base for World Cup redevelopment.
With FIFA's high expectations regarding access, parking and hospitality areas, Recife found an unconventional answer: a new city built just outside western boundaries of Recife, in the woods. So called Cidade da Copa will cover 240 hectares by 2024, becoming the region's most important hub for sports, events and commercial activity.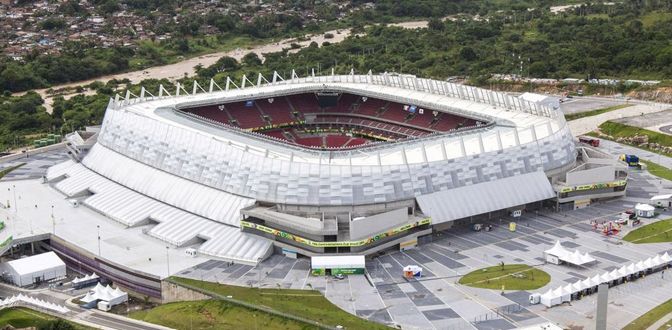 Proximity of a major highway and almost 5,000 parking spaces are to provide easy access, while public transport is being upgraded constantly. The place is hoped to draw crowds both for the 2014 World Cup and for the Brazilian domestic league.
To make sure of this, the new very interesting stadium was designed. From the outside it resembles an artificial crater with slopes covered with ETFE cushions that make it seem lightweight. Contrasting with the slopes, all four corners were equipped with angular concrete access ramps for spectators, making for an unusual combination and creating a unique shape for the stadium.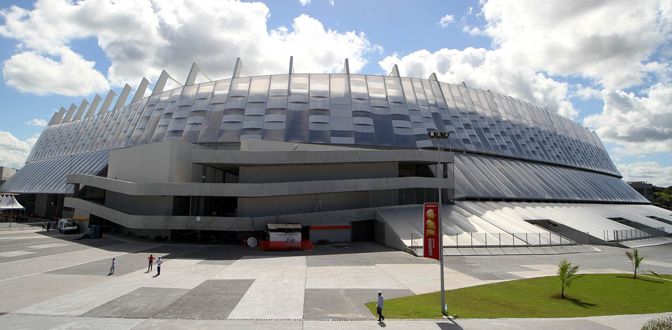 This contrast came from Daniel Fernandes's team of architects and cane be witnessed both by day and night. At nighttime the concrete ramps are Arena Pernambuco's only elements not to be completely illuminated. The rest may display various colours and patterns.
On the inside the stadium is very compact. Steep and tall stands have two VIP balconies on both sides with a significant number of 102 skyboxes. There are also 6,100 business seats and vast 'popular stands' on both ends to accommodate the more vibrant part of the fanbase.
Up to 70 days are reserved for football here, while non-sporting events may use the remainder of the calendar. Worth noting, the stadium may hold up to 63,000 people for concerts.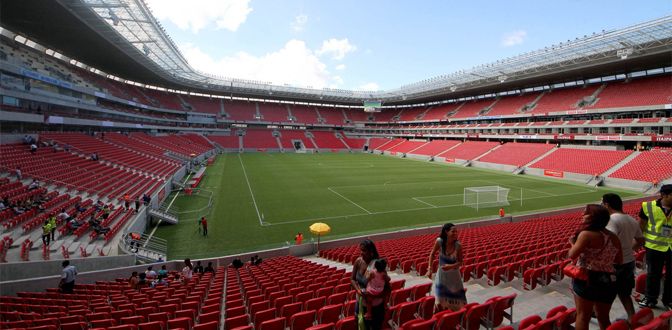 Clube Nautico Capibaribe are expected to be the anchor tenant here, but their first several fixtures were attended by disappointingly few people. Three out of four games had attendance below 4,000 and only the December fixture against Corinthians brought under 10,000 to the stadium. Meanwhile Nautico enjoyed average of 13,500 at their old home back in 2012.
Derby rivals Sport so far played only their Copa Sudamericana game here in October, drawing over 17,000 people. Will this disappointing tendency change as the complex is upgraded in upcoming months?
Arena Pernambuco may have had a difficult launch into operation and many citizens are sceptical, but will this influence your vote? Share it with us and help select Stadium of the Year 2013!