Nomination: Estádio Nacional de Brasília
source: StadiumDB.com; author: michał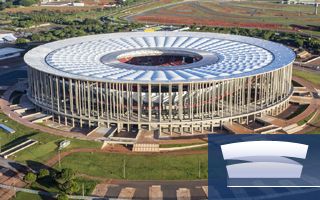 A city as exceptional as Brasilia couldn't have an ordinary stadium. And doesn't, because the one opened in 2013 is one of the most unique structures in the world of sports.
Not everyone has to be pleased or amazed by the urban and architectural order of Brasilia, but it doesn't make it less extraordinary. No wonder it's the only city established within the twentieth century listed as part of UNESCO's global heritage list.
Just two kilometers west of the centre lies a stadium with a 40-year long history. In early 1970s plans were drawn for the city's central stadium. Construction of the partly sunken multi-discipline stadium followed in 1971 and in early 1974 it was ready. With only the west side reaching significant height, the stadium could hold some 45,000 people and was nicknamed "O Gigante", The Giant.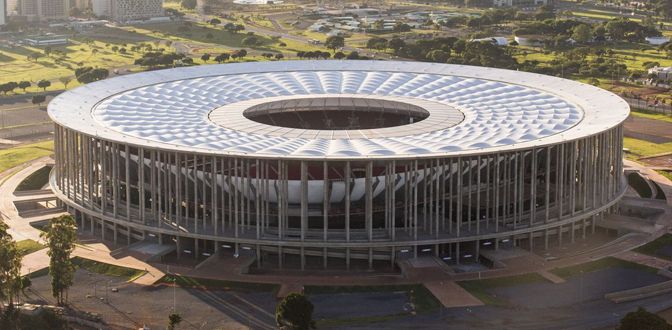 Fot: Copa2014.gov.br
Its appearance changed little until 2010, when demolition began. A new plan was developed by Eduardo Castro Mello, son of Icaro – author of the original stadium. This way the building, though completely rethought, remained "in the family". Of course this time it was an international cooperation, mostly with GMP Architekten and SBP of Germany. Still, credit for overal design remains with the Castro Mello domain.
The new stadium was planned as a much larger stadium, second only to Maracana in Brazil. Initially it was to retain the old west grandstand that would be base for new rings of seating around the pitch. That plan was later scrapped and in 2011 there was nothing left of the old stadium.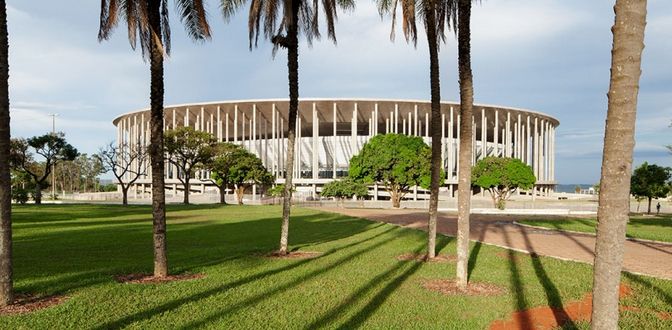 Fot: Marcus Bredt / GMP Architekten
New stands with over 70,000 people allow the stadium to hold most important matches globally and during this year's World Cup only Maracana received more prestigious fixtures. Two large tiers of seating (initially planned in Brazilian national colours, but eventually in solid red) are divided by a modest corporate balcony.
It's not the stands however that make this stadium so unique. The concrete seating bowl was surrounded by a vast circular plaza, over which dozens of slim and tall columns were raised. These gave support to a monumantal concrete ring hanging atop the stadium. That's right, the stadium is now rectangular inside, but its outer appearance is a perfect circle.
There was no room for decorations here, no external wrap of innovative and illuminated materials. I'ts minimalistic, raw and simple. As the stadium is Brasilia's largest building, it needs to meet the city's character and charm.
Fot: Marcus Bredt / GMP Architekten
When going inside, spectators find themselves on a spacious, semi-open promenade that may indeed give them the feeling of entering a concrete forest.
Cable roof within the concrete ring reminds of many similar designs by GMP Architekten and SBP. Covered with membrane, it has only a small glass section on the inner edge to allow more sunlight inside.
The stadium, which received its national status during construction, fits seemlessly into the urban fabric of Brasilia. But with its monumental scale it also proved to be 2014 World Cup's most expensive arena, sparking controversy over public spending and need for such a large venue in Brasilia.
This stadium is without a doubt out of the ordinary, but it's up to you whether it will be a major figure of this year's Stadium of the Year vote. Check all nominees and give us your opinion!