Nomination: Dalian Sports Center Stadium
source: StadiumDB.com; author: michał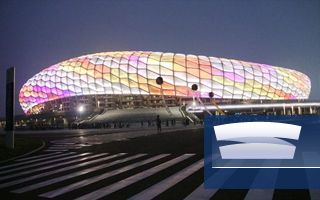 First large events are already behind it, but only now the stadium will get proper use. Last week Dalian Aerbin FC signed tenancy deal and will soon bring Chinese Super League to China's newest grand stadium.
This project's history is very much like dozens of others across China. Rapid development of cities brings around completely new districts. Those most representative receive large sports complexes.
For the north-eastern port of Dalian that district is Ganjingzi, north of the old city centre. This is where wide new avenues encircle the Sports Center.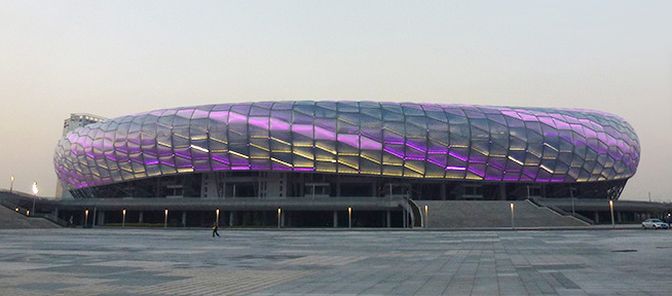 As most similar projects in the country, this complex doesn't only provide facilities for large events (main stadium, giant indoor hall, conference and hotel infrastructure), but also training and amateur sports. Four secondary stadiums, tennis court hub and other facilities are all spread between the main buildings.
All of the complex was delivered in just three years. International architecture practice Nadel is responsible for the site's layout. The main stadium is simple and traditional inside: two tiers of seating accommodate 61,000 people with 32 skyboxes incorporated into the main stand. Under the stands five floors provide immense space of 135,000 sqm for various uses. Which is not that surprising, this isn't China's first project of such impressive scale.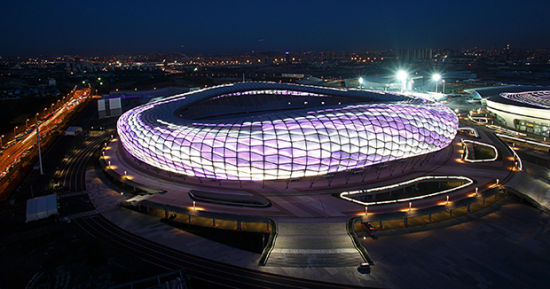 The most eye-catching is the external form of the stadium. On one hand it's derivative of what we've already been treated to in stadium design, to name just Allianz Arena and St. Jakob Park. The stadium is covered with ETFE cushions just like the one in Munich.
On the other hand, the composition is fresh – slightly bent ellipse with a whirlpool pattern created by three shades of the ETFE material. Blue by day, the stadium may take any colour by night with LED illumination covering over 90% of the 2,745 cushions.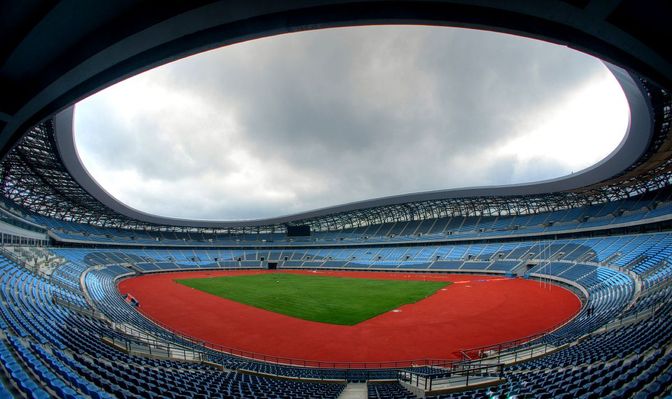 The stadium's first major event came in 2013: the 12th National Games of China. But while road access is very well planned, public transport didn't work properly at first. Now there's one subway station serving the stadium, another one will be opened soon. Eventually the sports complex is to have a major transport hub created nearby, providing comfortable access from across the metropolis.
Most important test from our website's perspective is yet to come. Last Friday the largest club of Liaoning province signed its tenancy deal. Dalian Aerbin FC, successor of the defunct Dalian Shide, will soon bring Super League games to the stadium, leaving twice smaller Jinzhou Stadium behind. Though sell-out crowds are hardly expected from the start, the club assure they're very excited by new commercial opportunities with the vast corporate hospitality section at their new home.
Worth your vote? Check out the list of all nominated stadiums and decide!