London: Brentford FC one step from new stadium
source: London24.com; author: michał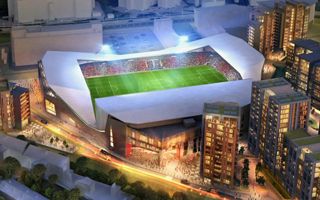 After local council, now also the mayor's office approved Lionel Road stadium plans. Only the secretary of state could possibly stop the development now, according to London24.com.
The new stadium for Brentford FC at Lionel Road is nearing fruition every month. First presented in January 2013, the project was then consulted widely and approved by the Hounslow Council in December 2013. Then in January 2014 the stadium's contractor was announced, Willmott and Dixon Group.
Now another major step has been done as the Mayor of London approved the scheme. Sir Edward Lister, the Chief of Staff and Deputy Mayor, Policy and Planning on behalf of the Mayor of London confirmed the decision of Hounslow Council Planning Committee to grant planning permission for Brentford Football Club's planning application for a new stadium and associated development at Lionel Road South.
One more step is left as decision of Secretary of State for Communities and Local Government Eric Pickles is expected. The Secretary may either approve the plans or call them in for further review.
Commenting on the Deputy Mayor's decision, Cliff Crown, Brentford FC Chairman, said: "Sir Edward Lister's decision is great news. Our vision of an exciting new hub at this brownfield site has taken another major step forward".
The new stadium at Lionel Road, only 800 meters east of Griffin Park, is hoped to accommodate at least 20,000 people and should have a unique layout. This is forced by the triangular shape of local plot. The stadium will also be surrounded by a new residential estate.