Iceland: How will the Reykjavik national stadium change?
source: IcelandNews.is; author: michał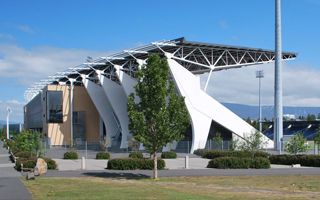 Today it accommodates up to 13,000 people, but that's not enough for big games. Soon Laugardalsvöllur may be transformed into a football-only stadium, according to IcelandNews.is.
Last major upgrade to Laugardalsvöllur was carried out in 2007 and today the stadium doesn't meet all requirements. Recent World Cup play-off against Croatia revealed that lack of under-soil heating may be an issue.
National football association KSÍ had to lease a special tent from England to heat the grass, paying a hefty price. Also the floodlights of 800 lux are too weak to meet UEFA criteria, needing an upgrade to 1,400 lux.
The stadium is also too small to hold major football games without leaving many people outside. Demand may exceed capacity, which has a maximum of 13,000.
According to IcelandNews.is, Saturday brought an unexpected turn of events as the football association reached an agreement with their athletic counterparts (FSÍ). Now both associations use the stadium, but athletes may leave for a smaller venue and allow for a football-specific transformation.
First the soil heating and improved floodlights are expected. Then new end stands are expected, bringing fans much closer to the field than they are currently on the grassy curves. A possible further alteration may see the east stand demounted and rebuilt closer to the gameplay.
KSÍ chairman Geir Þorsteinsson confirmed his organisation is in talks with the Reykjavik municipality. He also assured he's satisfied with the progress and stadium operation so far. Recent days also saw a working group established to discuss the stadium future issue.
Should the plans be launched, the west main grandstand seen below would be the only one remaining fairly unchanged.