Brussels: Anderlecht files expansion application again
source: StadiumDB.com; author: michał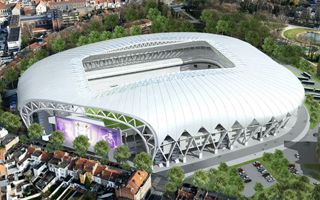 The Belgian club admits it's still only one of two possibilities, but they want to keep all options open. If the club doesn't leave Constant Vanden Stock Stadion for the new national arena, expansion will go forward.
Anderlecht is arguably the most popular club across Belgium, but their stadium is one of the obstacles in growing further. It's too small in the long run. With severe terrain constraints, Constant Vanden Stock Stadion is also challenging to redevelop.
This is why the club hired renowned Jaspers & Eyers architects to carry out design works. This was back in 2010, last year Anderlecht finally got the planning permission. However, with numerous concerns from local residents, the approval was only conditional. In practice this might bring expansion plans to a standstill.
This is why yesterday the club submitted a new, updated planning application. It addresses most of the doubts raised during consultations. The good news is that it should be more welcome by the Anderlecht district community. Any bad news? Yes, the new concept is downscaled and less impressive than the one from 2010.
Capacity remains unchanged, the desired size is 30,300 people. This size will be reached by adding a third tier around the stadium. However, to not obstruct sunlight access to residents across the street, the stadium's new dome has been flattened, reducing height by 8 meters. To limit noise levels the 'cut' open corner of the initial design has also been enclosed. You may compare both plans below: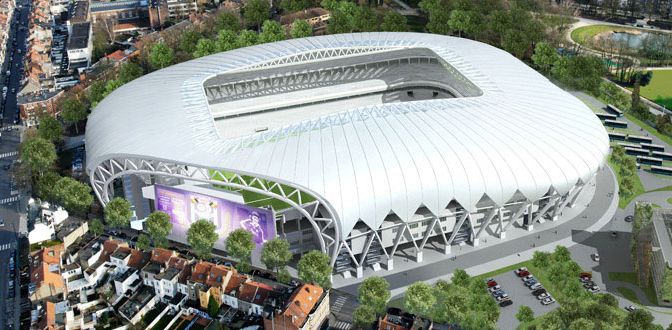 Of course even if the updated scheme gets full approval, it's not certain Anderlecht will go for it. Currently the club is in talks about becoming anchor tenant at the new national arena, planned beside the existing Koning Boudewijn Stadion.
This scheme is being put together in cooperation with the Belgian football association in a bid to host Euro 2020. For the new private national stadium to be feasible business-wise, there has to be a strong club as tenant and Anderlecht is considering the move.