Brazil: More workers needed in Curitiba
source: AP / Globo.com; author: michał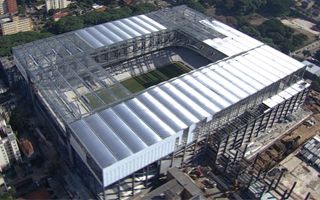 This week saw two major visits of officials from the government and FIFA to evaluate work progress at Arena da Baixada. The only stadium threatened with losing its spot in the 2014 World Cup needs more funds to increase the pace.
By yesterday afternoon both the sports minister Aldo Rebelo and FIFA consultants have been on site of Arena da Baixada's fight against time. The stadium is Brazil's only host venue threatened to lose its part of the 2014 World Cup if works don't speed up.
FIFA's ultimatum passes on Febrruary 18. By that time Brazilian investors need to provide solid guarantees that the stadium will be ready in time to host test events and the football tournaments.
A major problem arises with financing, though. Arena da Baixada is a private project launched by Atletico Paranaese and it already passed the projected budget severely.
The club argue their resources will be gone by the end of February and they need another significant loan from the Brazilian Development Bank (BNDES). Initially hoped to stay within R$ 130 million (€40m / $55m), the stadium's revamp is now most probably over the R$200 million figure, 180 million of which is already covered in loands from BNDES.
Now Atletico is asking for further $R65 million to increase employment on site and ensure the stadium is ready. There should be no problem with granting the additional loan, though no decision has been made yet. Special meeting is planned later today in Sao Paulo.