Barcelona: Camp Nou empty during Copa del Rey games
source: Sport.es / Marca.com; author: michał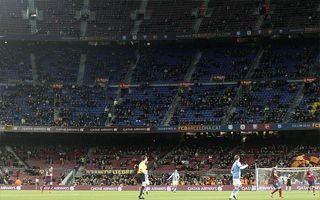 This year's attendance for domestic cup games is almost twice lower than last season's. Yesterday only 38,505 people watched Barcelona bear Real Sociedad in the semi-final of Copa del Rey.
During the 2012/13 campaign FC Barcelona had attendances of over 61,000 for their four home games in Copa del Rey. That's significantly lower than in Primera División (10,000 per game), but the cup remains less important than the league.
This year all four have been played already and results are described as shameful. Not those on the pitch, because Barcelona is very likely to reach the final against Real Madrid. But average turnout is appalling, only at 37,659 viewers per game.
Yesterday night saw the semifinal home leg against popular Basque rivals Real Sociedad and only 38,505 people came to Camp Nou. That's much worse than in the round of 32, when Cartagena's arrival brought 47,280 people inside the stadium.
Poor crowds brought various reactions. Dani Alves slammed those not bothered enough to watch the world's greatest club in action, claiming people absent yesterday aren't really 'cules'. Meanwhile Cesc Fabregas was looking for a rational explanation – late kick-off time in mid-week, when school and work is on the next day.
But Sport.es isn't equally understanding towards people absent during the semifinal. The website argues neither the weather, nor kick-off time were different than on many other occasions, so the attendance is still a dissapointment.
However it wasn't the semifinal that Barcelona was watched by all-season low number of people. The quarterfinal against Levante last week had only 25,551 spectators inside Europe's largest stadium.