Athens: Public consultation on AEK stadium to begin
source: GreekReporter.com; author: michał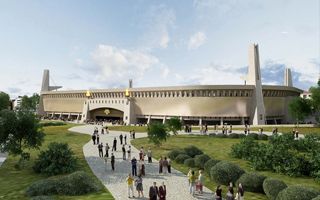 Environment Ministry of Greece yesterday released the regulation concerning Nea Philadelphia redevelopment plans. As GreekReporter.com informs, the document will now be subject to public consultation.
The Environment, Energy and Climate Change Ministry on Thursday released for public consultation the legislative regulation concerning the urban redesigning of the area which the new AEK football stadium is to be built in the Nea Philadelphia district.
This is where AEK previous stadium used to stand until it was demolished in 2003. In a bid to return to the club's spiritual home, AEK hope to build a new 32,500-capacity stadium. Its 'antique theming' will correspond to unofficial name of Hagia Sofia, as fans used to call the old stadium.
Initial announcements said construction may begin as early as January 2014, but will now certainly see a few months of setbacks as the redevelopment of Nea Philadelphia is discussed further.
"This intervention will include an overall remodeling of the area – not just the construction of a new stadium, that concerns Nea Philadelphia and the neighboring municipalities – but it aims to help in the revival and growth of the wider region as well", said Environment Minister Yiannis Maniatis, who added that "the project will respect the natural and urban environment".