Wales: Swansea city council approve Liberty Stadium expansion
source: BBC.co.uk; author: michał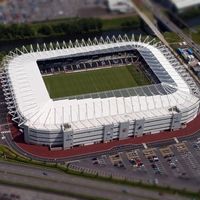 Premier League's smallest stadium has just gained the approval of Swansea City council to grow to some 33,000. The only thing that can stop the ground from reaching the projected size now is... McDonald's.
Submitted in April 2012, the planning application for Liberty Stadium expansion has first been approved by city planning officers and yesterday gained approval of the city council as well.
This means the stadium may begin to grow already as the season ends. Expansion, divided into three phases, will see first the east side receive 3,844 extra seats. Then both end zones are to get their upper decks.
Current size of 20,500 people doesn't suffice the demand as some 8,000 people are on the waiting list for season tickets.
Currently there seems to be only one possible obstacle that might impede part of the 50% capacity increase: the nearby McDonald's that was given planning permission in 2012. Swansea City are yet to reach an agreement with the restaurant operator to build in a different spot than the one needed for stadium to grow.