Waco: Baylor University honour McLane family with stadium name
source: baylorbears.com; author: michał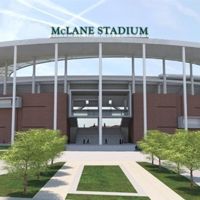 Baylor University announced it would name its new football stadium after one of the most distinguished alumni families in history. The name McLane Stadium honors Drayton McLane Jr. and his family's continuing generosity to the University and lengthy history of service to Baylor.
"Drayton McLane has done so much for Baylor University, and he has consistently demonstrated a deep love for his alma mater not only through his significant giving but also through his longtime service to the University as a Regent and chairman of the board," said Richard S. Willis, chair of the Baylor Board of Regents.
"With his continued generosity to the University, the board felt that naming our new football stadium McLane Stadium would appropriately honor Drayton McLane and his family for their remarkable generosity and visionary leadership, both of which have helped give rise to this extraordinary period in the history of our University. Drayton is a humble servant and did not seek such recognition, but he has reluctantly conceded to having his name on the stadium, and we are delighted."
The 45,000-capacity on-campus stadium is currently under construction and scheduled for opening this year. Much of the $250 million budget has been secured thanks to the McLane family. The below video update shows current progress: