USA: New hockey attendance record? Not just yet
source: StadiumDB.com; author: michał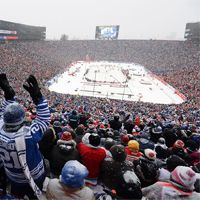 Another giant winter hockey game behind us at Michigan Stadium. Now the question on everyone's mind is how many people actually showed up to watch it. If the number is close to the amount of tickets sold, we may have a new record for any hockey game in history.
Current world record for hockey was set in December 2010 and stands at 104,173 people, all crammed inside the Michigan Stadium for a university game between University of Michigan and Michigan State University.
The 'academic derby' smashed another record set in 2010, when 77,803 people watched the World Championship opening in Gelsenkirchen, Germany. This just goes to show the scale of Michigan's leap in terms of hockey attendance.
Now the NHL decided to take it even further and organized another great event at Michigan Stadium. The 2014 Winter Classic on New Year's Day between Detroit Red Wings and Toronto Maple Leafs was announced to bid for the Guinness World Record, though the stadium gives only a few thousand more tickets to be sold (official capacity at 109,901.
During the game's third period organizers announced the number of tickets sold at 105,491. That's higher than the previous record, of course. But did all ticket-holders actually show up? That's practically impossible at any large event and sounds especially improbable for the Wednesday game, because significant snowfall caused traffic problems and temperatures of some -10 may have prevented some people from going to the roofless stadium.
Currently both the organizers and the Guinness officials are counting the people inside. Results may be known within days, but may as well take weeks to count. NHL hasn't lost the bid yet and high hopes are alive as the stadium was packed despite poor weather in the end.