Stadium of the Year 2013: Time to nominate!
source: StadiumDB.com; author: StadiumDB.com team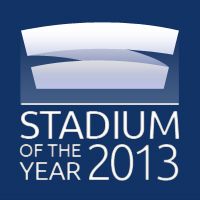 Just like every year, we invite you to propose nominees before the Stadium of the Year vote begins. We created an initial list of eligible stadiums, but count on you to suggest more, if you think we missed any worthy building.
Time to begin the warm-up ahead of this year's Stadium of the Year vote. As always, we created a the initial list of nominees, based on our best knowledge. But, also as always, we're running an open nomination process, in which you can enter further nominees if you think we missed any stadium.
The list, which without any surprise is dominated by stadiums from Brazil, contains 16 stadiums opened in 2013. You may find it in our online survey, where you may also submit your further suggestions!
Before submitting any additional stadiums, please keep in mind we have a few (just a few, but still) conditions. For a stadium to be eligible, it has to:
hold 10,000 people or more. Only stadiums able to hold significant events can be included, thus the minimum requirement;
be opened and/or hold at least one event with all sections opened between Jan 01 and Dec 31, 2013;
be able to hold a football (soccer) game. Not necessarily a football-specific stadium, but one that may fit a football field, whether it has running/racing tracks or fields for other football codes (American football, rugby);
be newly built or redeveloped completely. That's a major change since previous three editions of Stadium of the Year. Previously we had a firm rule, that at least 75% of an old stadium has to be changed for it to apply. However, that would disqualify some very important and complete redevelopments that are either done or ongoing for future editions.
We look forward to receiving your feedback. Nomination process is open from today (Jan 7) for two weeks, until and including Jan 21. The very next day we launch the worldwide vote for best stadium opened/reopened in 2013!