Saint Petersburg: Retractable field selection soon
source: Karpovka.net; author: michał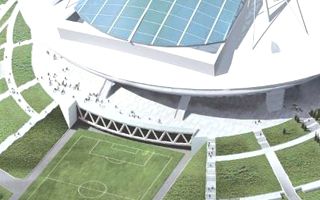 While the stadium is still hugely delayed, the selection of mobile field technology is anticipated in February. Final cost has yet to be established, according to Karpovka.net.
Growing at the Ostrov Krestovskiy island, Russia's second largest stadium is expected to open the 2018 World Cup. It will also be one of very few stadia worldwide with the football field sliding out of the building for proper sunlight.
However, to date it hasn't been established, what technology will be used for this purpose. Initial presentations were carried out by various manufacturers and in early February detailed specifications should be known.
Cost estimations will allow the municipal authorities to launch construction tender, because the mobile pitch is not part of the general construction deal with Transstroi.
Currently the stadium is estimated to cost some RUB 35 billion (€750m / $1 billion). Postponed numerous times, current delivery time is set for late 2015, but tests and launching the arena into operation may take half a year more.