Pyrotechnics: Norway, the promised land?
source: StadiumDB.com; author: michał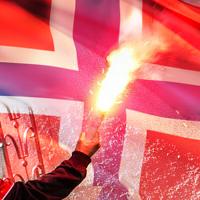 Last year began with difficult news for Norwegian fans – pyrotechnics were partly banned after two years of legal use. This year it's not the case, Norway remains Europe's most liberal country regarding the use of 'pyro'.
For most football fans in Europe (and beyond, with few exceptions) there's usually a similar scenario: if you try or succeed in lighting any pyrotechnic materials inside the stadium, you risk getting banned for years, paying a hefty fine or even landing behind bars for a few years.
There are very few places with a dialogue on this issue, even fewer with actual consensus. Norway remains the only country that has pyrotechnics legalised throughout the country's stadiums. The green light given in 2011 was preceded by long campaigns and lobbying by local fan groups and the national Norwegian Supporters Alliance (NSA). Trials led in Oslo and Trondheim went well, leading to pyrotechnics approval for 2011 and 2012.
Then, in early 2013, without consulting supporters the football governing body NFF banned flares from stadiums again. This raised quite some eyebrows, because both the authorities and supporters previously described their cooperation as an exceptional dialogue on many occasions.
Following the decision campaigning began once more and by Spring the mood was already shifting. Fans were given a challenge to restrain from lighting any materials in early games of the 2013 season to prove their commitment towards a safe solution. They passed the test and by the end of the season pyrotechnics were legal again.
Fill in the form, please
Currently it's legal for supporters to bring nearly any kind of pyrotechnic materials (up to professional fireworks), but only if they meet specific conditions. Ahead of every pyroshow fans need to apply for approval not later than on noon the day before their game, home or away.
A special form was created, where fan groups need to specify as clearly as possible the intended performance in the stands. Number and sort of pyrotechnics needs to be specified, while all materials need to have domestic certificates.
The form also asks who (by name) will be lighting them, in which parts of the stadium, at what time and for how long. To make it more "bureaucratic", the application form needs to be approved by local fire and police services, as well as by the stadium owner (municipality / club / other private entity). In total fans need to gain approval of five entities, adding to the above also their club and finally the NFF.
As if this wasn't challenging logistically, the supporters alliance also has its own guidelines. They're not included in general rules, but should apply in all cases for safety reasons. The NSA strongly encourages to have a metal bucket with sand to extinguish the materials, a fire extinguisher for emergency reasons. And to always clearly inform people in direct vicinity about what is going to take place, keeping a safe distance between fans and the flame.
Victory of reason
Some argue that this kills the spontanous nature of pyrotechnic displays, but for people in the crowd who aren't involved in preparations such displays are still interesting and somewhat unexpected. Then there's the safety issue, which should always come first. Worth noting is the fact that in most countries fans need to balance their and/or other people's safety on one hand and legal consequences on the other.
If so, they're more likely to light flares under large flags or in highly congested, crowded areas, then throwing the still burning projectiles away without precision, just to avoid identification. All these situation pose a significant risk, which the Norwegian model minimises. Once not bothered by the legality issue, fans may focus on displaying the fireworks properly and safely.
Whether they choose to do so is still up to them. Even in liberal Norway doing pyroshows without all meeting the conditions named above may end with criminal charges.