Porto Alegre: 'Palm-leaf' membrane installed atop Beira-Rio
source: Internacional.com.br; author: michał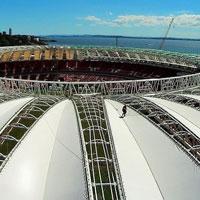 This unique roof isn't completely ready yet, but Estadio Beira-Rio already has all 65 membrane segments mounted over the stands. Each of them resembles a palm leaf.
It's overdue, but still should easily be completed well ahead of the 2014 World Cup – this sentence sums up the progress at Estadio Beira-Rio. Yesterday the stadium's self-supporting roof dome was covered by last, 65th piece of membrane.
All of the 65 segments resemble palm leafs and were transported to Brazil directly from the manufacturer in Germany. They're manufactured from PTFE fibers (poly-tetra-fluoro-ethylene), which makes them fire- and UV-resistant.
The membrane is now beige, but should turn white after exposed to sunlight within weeks. It's easy to clean as Teflon coating stops dirt from sticking onto it – a strong stream of water is enough to wash it off.
Between all the membrane panels there will be smaller and almost transparent polycarbonate segments, expected to be installed within weeks. Stands are already done and once the roof, installations and surroundings are completed, testing may begin, probably in early February.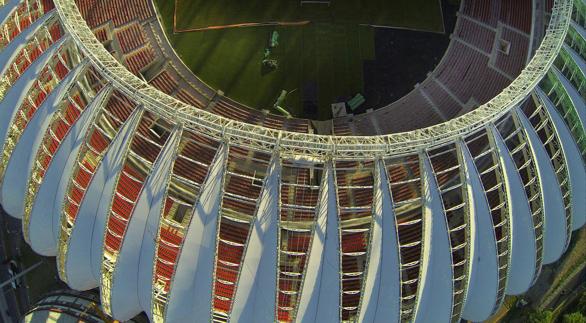 Photo: Anderson Vaz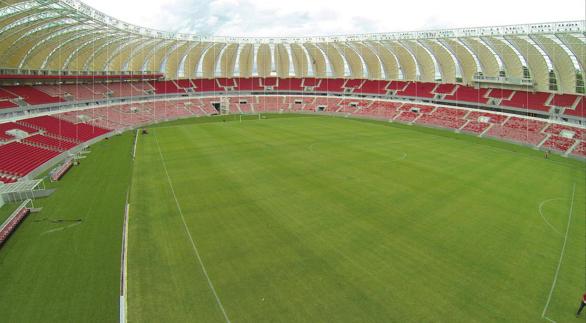 Photo: Anderson Vaz