New stadiums: Atlanta, St. Louis, Minneapolis, Eugene
source: StadiumDB.com; author: StadiumDB.com team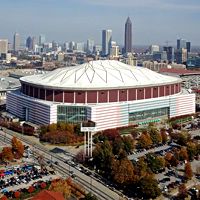 The latest additions to StadiumDB.com see two stadiums that are going to be demolished very soon. Then there's the stadium seen as one of the worst in NFL. And finally Autzen Stadium, where it never rains, even when everyone's soaked…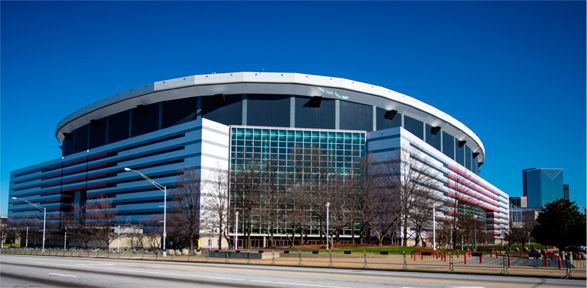 Built with the cost of 214 million, Georgia Dome became the world's largest indoor facility when it opened in 1992. The closed roof is a unique combination of steel elements with tensile membrane, giving it the distinctive shape dominating the north-western part of Atlanta's downtown. With capacity initially set at 72,250 and the height of 82.5 meters (surface of 227.3m x 185m) it's Georgia's second largest stadium overall, losing only to Sanford Stadium.
In 2006 the plan of thorough renovation was announced, estimated to cost $300 million. The stadium was revamped in two phases. First the corporate infrastructure was redone in 2007 and then in 2008 the entire interior received new furnishings. New lighting, loudspeakers and giant screens came in 2009. The exterior cladding was relaid as well.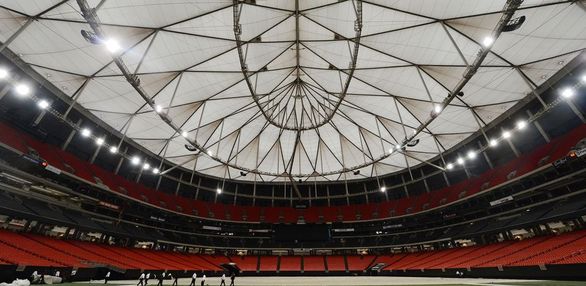 Apart from American football, Georgia Dome also hosts basketball, football and wrestling events, among other. In 1996 the stadium also became a venue of the Olympics, being divided into two smaller arenas for basketball, rhythmic gymnastics and handball.
In 2014 the new stadium for Atlanta Falcons is to see its groundbreaking next to Georgia Dome, beginning the countdown to current stadium's demolition.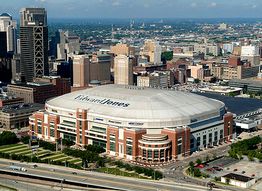 The stadium built for $280 million is a multifunctional arena with permanent roof, incorporated into a larger commercial complex. It was built primarily to secure an NFL franchise for Saint Louis. Opened in 1995, it provides various configurations thanks to removable football pitch platform, seeing maximum capacity at 70,000 (66,000 for American football).
In 2009 the stadium saw new LED giant screens instead of old ones. That same year hospitality zone and skyboxes were rev amped. Part of the stadium also received new paintwork, making it more in tune with Saint Louis Rams colours. In 2011 new HD screens were mounted around the stadium.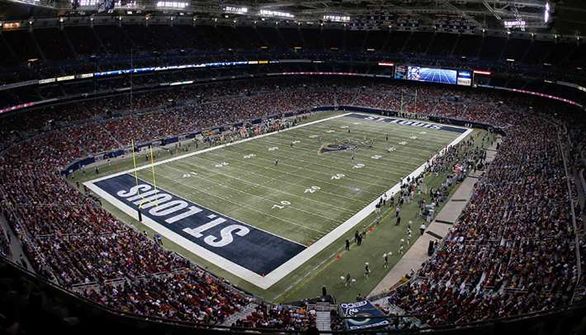 In 2008 the stadium was fund NFL's worst ground in a fans' vote. Then in 2012 Time magazine ranked it one of the worst stadiums across the US.
Currently talks are ongoing about rebuilding the stadium completely or building a new one for St. Louis Rams. The city hopes to retain its franchise in the NFL, though the competition is very stiff.
In early 1970s Minnesota Vikings began lobbying for a new stadium. The outdated Metropolitan Stadium proved insufficient for the new demands. Plan was to erect an indoor arena with a then-revolutionary pneumatic membrane roof.
The stadium was able to hold 62,220 people upon opening in 1982, built at the price of $ 55 million. From its earliest days it hosted both American football and baseball games of Vikings (US football) and Golden Gophers and Twins (baseball). This combination was possible thanks to installation of telescopic stands in parts of the lower ring.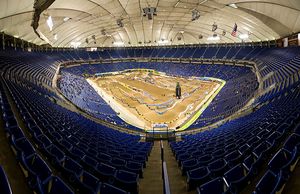 Over the years Minneapolis weather proved too much for the membrane roof, which suffered from several accidents. Most recent one took place in December 2010, when rips and wholes caused by heavy snowfall made the entire roof deflate and collapse, letting snow into the stadium. Its repairs took almost half a year and cost $18 million.
In 2013 the stadium was used by Minnesota Vikings (NFL), Minnesota United FC (football, NASL) and the Golden Gophers (baseball). Currently the stadium is closed and being demolished as the new Vikings Stadium is being built partly in the same location.
Academic sports at University of Oregon rarely took place at the university until 1967, because there was no stadium big enough. The need to travel to distant Portland for large events led the university to buy land in 1950s north of the campus, along the Willamette River.
Construction on a large artificial land embankment began in early 1967 and ended within just 9 months. This simple means resulted in very modest budget of just $2.5 million.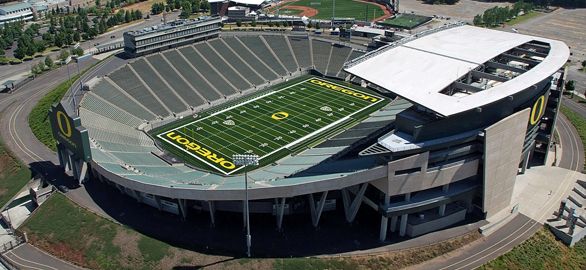 Over the years the stadium went through several renovations and expansions, but its capacity saw few changes (increased to 42,000 from 40,000) until 2002, when it grew to 54,000. That expansion saw the stadium's form change completely. A massive new south stand was erected along the design by Ellerbe Beckett along with brand new corporate infrastructure. Interestingly, Autzen Stadium has seen crowds beyond capacity every time since it reopened in 2002!
Autzen Stadium never received a roof despite Oregon being a rather rainy state. Even the 2002 operation only gave the south side some shade. The roof isn't needed by fans, apparently, as local tradition is to sing ahead of every game that "It never rains at Autzen Stadium". Even if there actually is rainfall, it's dismissed by the announcer and fans.