New stadiums: Aguascalientes and Puebla
source: StadiumDB.com; author: StadiumDB.com team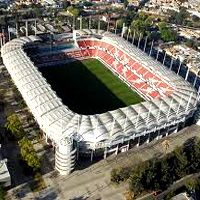 They may not be huge, but are both modern and interesting. Because having a fountain behind seats has to be interesting, doesn't it? Please welcome Estadio Victoria and Estadio Universitario de la BUAP at StadiumDB.com.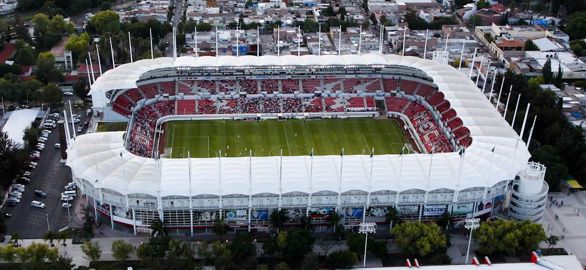 After Club Necaxa failed to draw crowds to the giant Estadio Azteca, the side relocated and decided to build their own stadium. The municipality of Aguascalientes donated land with outdated 8,000-capacity municipal stadium, which was then demolished and replaced by a new, private stadium.
Construction began in May 2002 and led to opening after just 14 months. The stadium wasn't completely done at that time, but operable. Its stands are mostly covered with the south side remaining the only one without either a roof or an upper tier of seating. In return, the stand offers a unique feature of a dynamic fountain behind southern seats.
The name Estadio Victoria is commercially secured to promote Victoria beer. The naming rights contract is to last for 25 years since opening.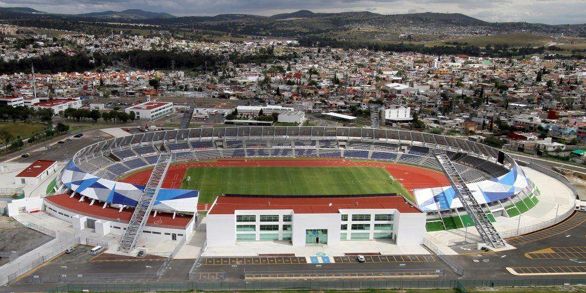 In its initial form, the stadium at BUAP university campus was opened in 1992. It had 11 rows of terracing on landfill, surrounding the running track and football pitch.
As the city of Puebla was selected to host the 2012 Olimpiada Nacional, the stadium underwent a major overhaul. At the cost of MXN 380 million further 9 rows of seating were added throughout the stadium with a new steel roof frame. West side saw a brand new main grandstand and floodlight masts were installed as well.
Apart from the academic athletics, the stadium also hosts two professional football clubs that play on central level: Lobos de BUAP and Lobos Prepa.