New design: Scunthorpe United Stadium
source: StadiumDB.com; author: StadiumDB.com team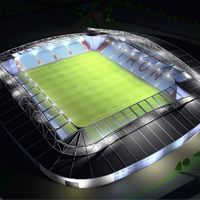 It's been confirmed in December and already now we see how the desired new ground of The Iron should look. Of course these are initial renderings, but the aspirations of the League Two side are admirable!
Announced first during the recent annual general meeting, the new stadium for Scunthorpe United is to be built in a new spot, preferably not too distant from current Glanford Park. Initial configuration should see capacity of 12,000 people, but with a chance to increase to 18,000, should such demand exist as the club plan to move up towards the Championship and settle there.
The club are hoping to erect the steel-based structure in several months and within a tight budget of £17-18 million. Much of the cost (up to 50%) would be covered with external funding programs, like the EU or British football funds.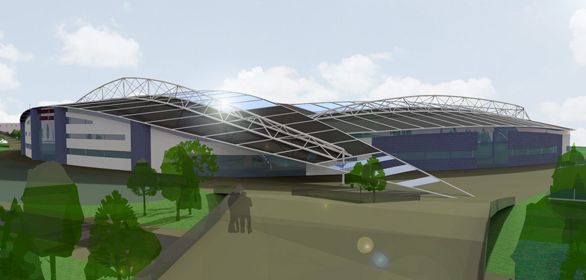 The design was carried out by Frank Whittle Partnership, a company with a couple of British stadiums in their portfolio already. For the Iron architects suggest a curvy bowl with significant domination of the main stand.
Though incorporated into the bowl, the stand's roof is to span beyond the stadium, creating an arch and adding to the dynamism. Of course the shape is subject to further development as the project goes forward, but the idea seems very attractive overall.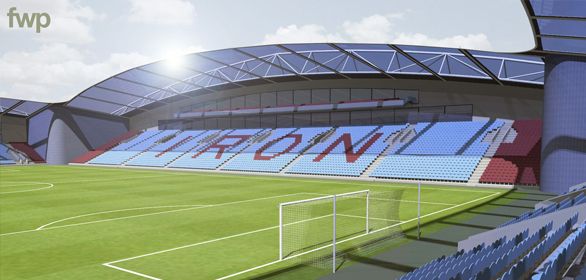 Deliver date is yet to be established as the club is dependent on acquiring lend needed for the development. Preferably United would want to move in mid-2015 of mid-2016, only taking into account dates between seasons, not in mid-season.
What some fans may find encouraging, is the stance regarding safe standing inside the new stadium. "If it's allowed then I will put one in, I've got no problem with it. I've got nothing against it", said Peter Swann, club chairman. "I'm up for it. We only had 500 seats at Gainsborough. I love standing areas".