Munich: Bayern pays 40% of away tickets at Arsenal to ease supporters
source: fcbayern.de; author: michał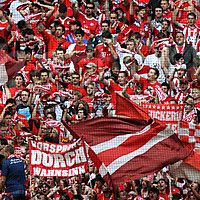 On one hand it's what the club describes as "small thank you" gesture. On the other, it's another argument for those criticizing skyrocketing ticket prices at Arsenal, who reportedly have the world's most expensive away section.
In a special statement published on the club's website, FC Bayern informs it wishes to thank its fans for their amazing commitment over the years.
Currently highest ranked club by IFFHS writes: "Particularly noteworthy is the fact that a large number of fans Bayern not only supports the top games, but also at every single away game. This loyalty not only means committing a great deal of time, but also rips a big hole in the wallet, that should be clear to all."
Another expression of the fanbase's loyalty was the ordering process for upcoming Arsenal away game in the Champions League (Feb 19). The away enclosure holds 2,974 people, while there were over 18,000 orders placed by fans of Bayern.
At the same time Arsenal is reported to be the most expensive club to attend games throughout the world of football. The Gunners expect every travelling fan for top games (both in CL and Premier League) to spend £62 (€75 / $102).
For this reason Bayern decided to support its fans by nearly €90,000 ($122,000), which represents 40% of the ticket price. So instead of paying €75, fans now need to have €45.
Bayern's statement isn't addressed at Arsenal's pricing policy directly, but some see it as a clear signal. Daily Mirror writes that it's the ticket prices at Emirates Stadium that caused the move.
Also, the gesture by German champions comes less than a year since various campaigns against Arsenal's away ticket pricing began in England. Since January 2013 the issue even brought together fan of antagonistic Manchester United and Liverpool FC, while 912 Manchester City fans returned their tickets to London, protesting the 'rip-off'.