Minneapolis: Last roof deflation at Metrodome
source: StadiumDB.com; author: michał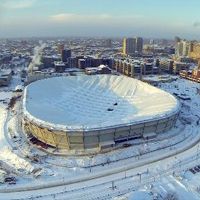 After 32 years it's no longer a piece of Minneapolis skyline. The pneumatic roof of Metrodome was deflated yesterday as demolition of the stadium is nearing.
Opened in 1982, the Metrodome saw its roof collapse the last time on Saturday morning. Previously such situations meant trouble, like when snow tore wholes in the membrane in 2010. Now the operation was more sentimental and marked another step in the stadium's demolition.
After 32 the Minnesota Sports Authority released safety vents and stopped blowers that provided air to pneumatically keep the teflon-coated fabric up. It took 35 minutes for the 'cushion' to fall down onto the stands, which you can see in time-lapse here:
Deflating the roof is a move towards Metrodome's end. It's going to be dismantled piece by piece, making way for the $975 million new stadium, expected to be built partly at Metrodome's location by mid-2016.